Since writing the blog post 8 Ways to Use Snapchat for Business there still remains lots of questions on how to get started and what tips for Snapchat are available to many who are still new.  For someone who considers themselves pretty tech savvy, I was pretty frustrated when I could not figure out how to use Snapchat. My 14-year-old daughter was using it like a pro, and was always on it. Showed me how to use it, but when I was on my own, I was still stumped!
I always thought of Snapchat as a sneaky way to send naughty photos to someone and then having them somehow self destruct themselves as soon as someone views them. When my daughter started using it I was like HOLD UP! I don't think so! They kind of got a bad name in the beginning, but once she sat down with me and was fine with me always checking her phone, I saw firsthand how far Snapchat has come. Now I see how businesses are using it as another marketing platform. Made me realize it may be wise for me to start learning and using it, or at least be able to explain how it works.
We are going to jump right in to tips for snapchat which highlights the basics, and the most important points that stick out to me, as a newbie. I did not include the step one: install, step two: create a user name…etc. The set-up part should be pretty self explanatory.
Tips for Snapchat
Disable or enable the Find Friends feature. This feature is to show or hide your Snapchat user name to appear on your friend's contact list. Snapchat friends who have your mobile number will be able to see your name pop up. This could be a good or bad thing to you, think about it.
Snap a picture or a 10 second video. While on your photo/video, swipe left for traditional color filters, display time or temperature. Tap the items on your screen for text, colorful scribbles or cute little icons.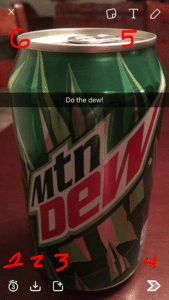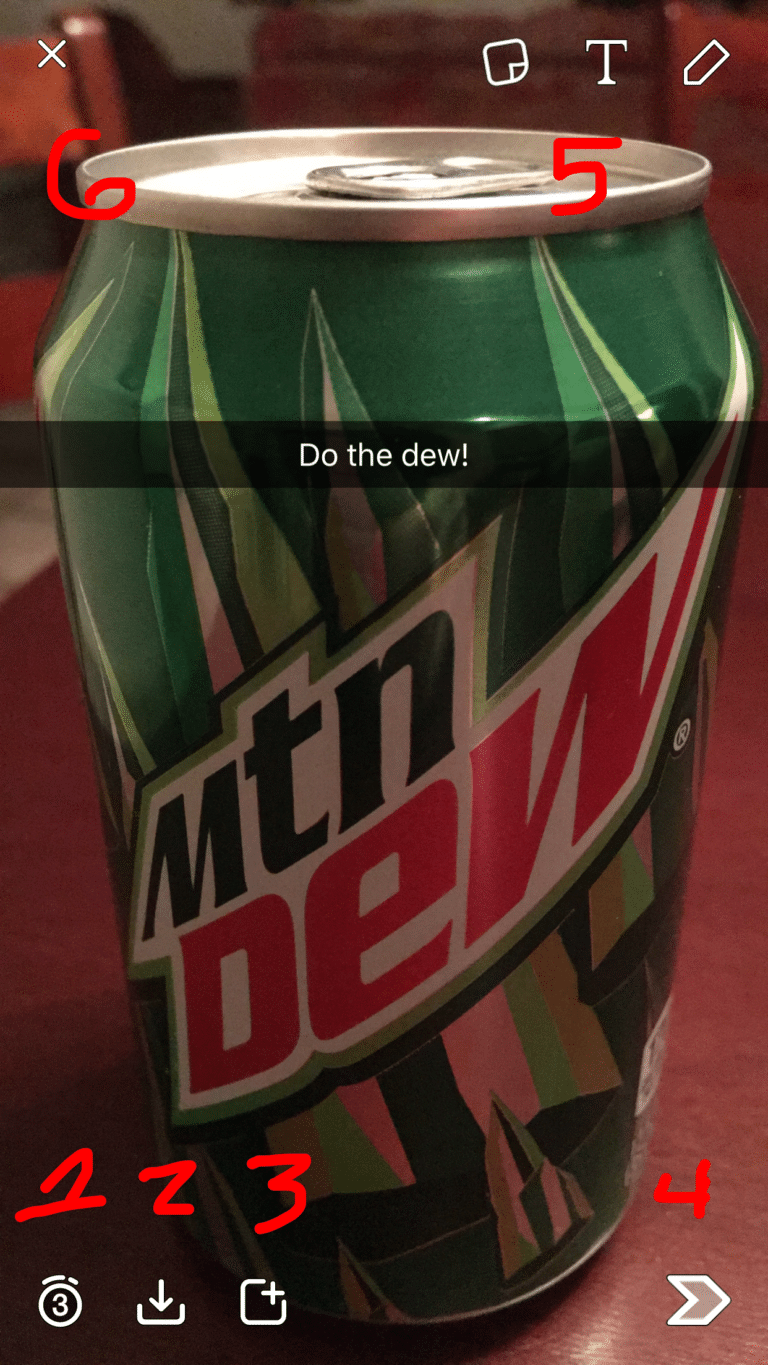 When you take a Snap, note:
Timer
Download snap
Add to Stories
Send in a chat
Customize with text, icons/emojis, and colorful scribbles
Discard the Snap to not publish
Lenses are fun! Another hidden gem that took me forever to figure out, had to add to tips for Snapchat! Simply point your Snapchat camera to a face, press and hold, you'll see a mask trace form over the face. All the lenses you can scroll through and play with will magically appear.
The Chat. "Snapchat" appears when you swipe to the right. This shows snaps people have sent only to you. The empty cube means you've viewed it, the full cube means you have not viewed it.
All about the "Stories". Stories (swipe left as soon as you open the app) are collections of pictures and short videos of your friends and brands you are connected to. You can find these under "Recent Updates". This falls under the "Discover" and "Live". Tap a circle in the Stories screen to start watching.
24 hours. Whatever is published in a revolving 24 hour period, is basically all combined in to one Story so if your friend clicks on your circle, they will be able to see all of it as long as it was published in a 24 hour time frame. Any content published to Stories is visibly for 24 hours, and then it disappears.
How to navigate. When navigating while you are viewing Story, TAP to skip to the next Snap in the Story. Swipe left to skip to the next Story. Swipe down to exit a Story. This tips for Snapchat takes practice to get it down for sure.
Use "Add Nearby". This is great when you are with friends or just met friends who have Snapchat. Snapchat explains this clearly here if confusion kicks in: https://support.snapchat.com/en-US/a/add-nearby.
Who added you as a friend. When a Snapchatter has added you, the Snapchat icon at the top of the camera screen turns from white to yellow. Simply click "Added Me" on your profile screen and tap the + if you want to add them back.
Get familiar with your "Score". Instead of showing followers and friends, Snapchat shows a "Score" which is determined by the number of Snaps you've sent and received, Stories you've posted, and other factors.
Use Snapcodes. If you look closely at your Profile pic on Snapchat (the yellow looking ghost), it almost reminds me of a QR code and kind of works in the same way. Add someone by their Snapcode by pointing your Snapchat camera at someone's Snapcode (Profile pic), press and hold, them you will be prompted to add.
Most importantly, who has viewed your snap! I think this is the most important in my tips for snapchat because it tells you how many people and who are actually viewing your Snaps. It took me the longest time to figure this out, so follow closely! It will even tell you who screen shots one of your Snaps. I took a quick print screen from Snapchat's website since it shows the icons, but if you need further help, go to: https://support.snapchat.com/en-US/a/story-views.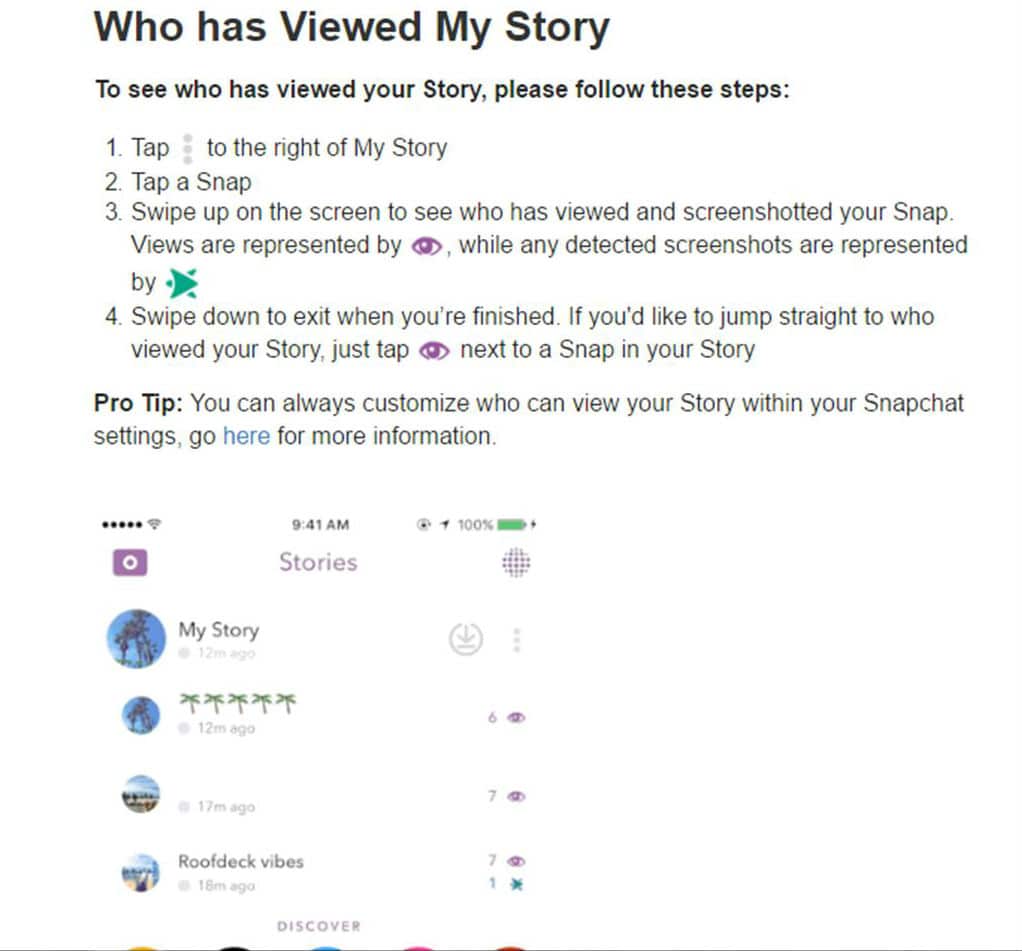 Demographics are important to know. Most users are between the ages of 13 and 34.
Unknown: Trophies. The higher the Score you get on Snapchat, the more trophies you will unlock. I'm not really sure the significance of this part of Snapchat. Does it unlock anything? If you know the answer to this, and can add more about Trophies, please comment below, or if you have any tips for snapchat. Also leave your Snapchat name and let's connect. Add me on Snapchat, I need practice lol: web_jess.