You want to get in to custom printing, you have your own designs or you plan on creating some, but don't want to keep any in stock, or pay any upfront cost, that's where Zazzle.com and Cafepress.com come in, read my Zazzle vs Cafepress to find out which website is right for your designs when it comes to custom printing.
Zazzle.com and Cafepress.com are both online retailers that allows their consumers/users to upload their own designs to print-on-demand for a wide range of products. These websites are both free to use and to create a storefront, however Cafepress does offer a premium option for higher volume sellers that can pay the $6.95 a month, $18.45 for 3 months, $34.95 for 6 months, or $59.95 a year to get more features and products.
How Much Can You Make Zazzle vs Cafepress
Zazzle allows you to set your own percentages on your royalties, on average most people will set their Zazzle royalties between 10%-35%. Minimum payment threshold for PayPal is $50, or $2.50 fee if payment is below this threshold. Minimum payment threshold by check is $100, or $5 fee if payment is below this threshold.
Cafepress pays out a flat 10% royalty on all your customized products. Minimum payment threshold is $25 by either check or PayPal. They also offer Shop Performance Bonuses, please see image below for more information on how this works: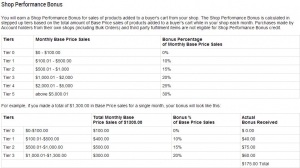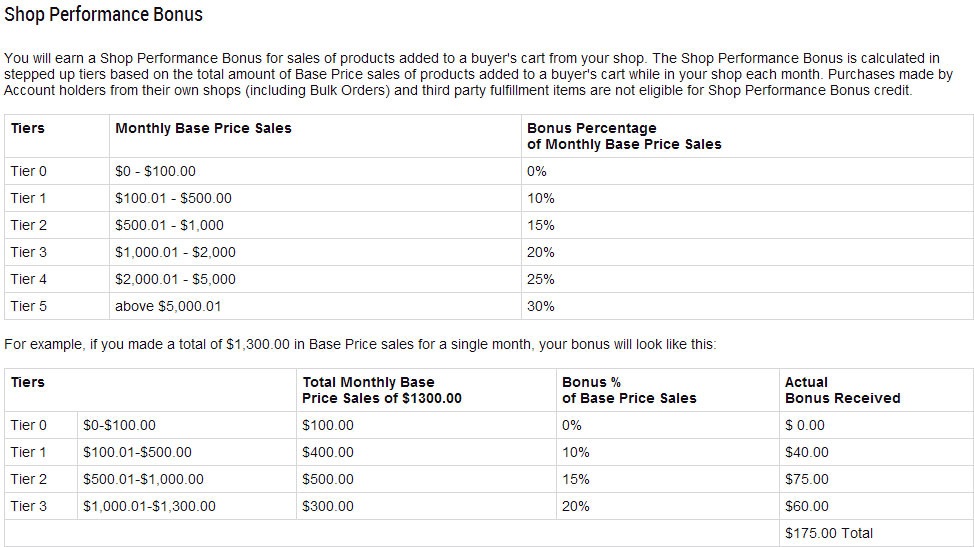 Zazzle vs Cafepress Affiliate Programs
Both Zazzle and Cafepress have affiliate programs where you can earn even more money for promoting other people's products as well as yours.
Zazzle has a minimum referral commission of 15%, and now with their Volume Bonus Earning Program, you can earn up to 30% commissions, please see image below for more details. You can link to any product at all using your referral id.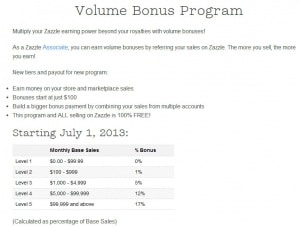 Cafepress' Affiliate Program pays you commissions when you refer people to purchase directly from their marketplace (the link needs to straight to here), but you will NOT make commissions on products purchased directly from Cafepress shops. So when it comes to linking any product, make sure you are getting that product's link directly from their Marketplace, not from the actual Cafepress Shop. Also make sure you set your Store Settings preferences to display your products in their Marketplace, not private, so not only you but others can also find your products and promote them for affiliate commissions as well. The Cafepress' Affiliate Program is not available to you if you are a resident in Arkansas, Hawaii, Illinois, New York, Pennsylvania, or Rhode Island in the US, but they do offer the program in other countries.
Both Offer Bulk Discounting
Zazzle's bulk discounting varies by products and quantities and offers anywhere from 10% all the way up to 70% off. You can see what items they offer bulk discounting to and how much on their website here.
CafePress offers bulk discounting up to a 45% discount on many of their products when customers buy amounts in 12, 36, or 72 quantities.
Product Quality Zazzle vs Cafepress
Zazzle products appear to be good quality for the price you pay, most of their items on average are highly rated on their website, plus most reviews I read all over the web were fairly decent.
Cafepress reviews are  about half and half, where some reviews I read said the quality is good, and the other half stating the products are not as good as Zazzle's.


Products Available
Between Zazzle and CafePress, both have close to the same products they offer to customize and sell from a large selection of different apparel items, to accessories, gifts/hobby items, to many items for the home, electronic cases/covers, and much more. There are a few items I know for sure awhile back Zazzle had that CafePress did not such as cake toppers, pacifiers, playing cards, etc. Then there were products CafePress had that Zazzle did not such as shower curtains, pillow cases, yoga mats, etc.
Zazzle vs Cafepress product pricing is very comparable to each other, fairly reasonable when it comes to online shopping, plus like I stated before, they offer pretty good sales and discounts here and there.
Ease of Use Zazzle vs Cafepress
After reading many reviews online, when it comes to Zazzle vs Cafepress, on average I would say 7 out of 10 people recommend Zazzle over Cafepress when it comes to how easy it is to set up your own shop. From personal experience, I can tell you when I set up my accounts on both websites, I found Zazzle to be easier than Cafepress. Although Zazzle is very customizable with color, text, graphic elements, and modules, Cafepress does have a great selection of different cliparts to choose from and lots of font selection. Both Zazzle and CafePress offers many tools to help promote the products you create as well.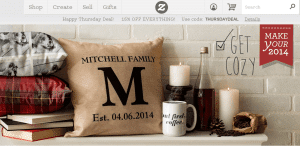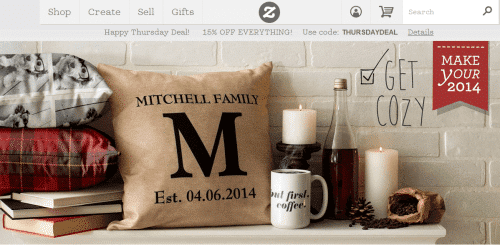 Promos
When it comes to Zazzle vs Cafepress, both are pretty good about promoting and marketing their user's products, I would say both do a great job offering sales and discounts. Sign up for their newsletters and stay up to date for sales going on, this is just another great way to refer people to your stores and get them to buy more. Who likes to pay full price anyways right?
Interesting Facts Zazzle vs Cafepress
Zazzle, although founded in 1999, its actual website was launched in 2005. When googled it comes up with 25,000,000 results as of 1/27/2014. Cafepress, founded in 1999, comes up with 7,800,000 results when googled as of 1/27/2014. Zazzle has 95,340 Facebook likes and Cafepress has 523,295 Facebook likes.
Do your research and read the reviews yourself. My advice, try both Zazzle and Cafepress out. Put different products on each, see how they do, and see which one works best for you. There are many people out there getting their products discovered and making lots of money on both of these print-on-demand sites.
Other stores to look in to similar to Zazzle and Cafepress:
Spreadshirt.com
Society6.com
Customink.com
Blurb.com (photo books, ebooks, and other print books only)
One thing to think about, yes the royalties may not be as high as you would like them to be when it comes to using an online retailer to print-on-demand such as Zazzle and Cafepress, but at the same time you are not having to manage stock or pay any upfront cost to print your products. Ultimately if that's the industry you are wanting to grow a career in, it may be worth looking in to working with local printers. More than most likely you would make more money by going that route. Please leave a comment and share your opinion when it comes to Zazzle vs Cafepress. Which do you prefer?
If you are just stopping by for help on picking the right online retailer that does printing-on-demand, best of luck to you in your choice.