So you decided you want to write your own blog, and you've just finished with your first, congratulations! Now what do you do with it right? The common question for most first time bloggers. You want your blog to be a success and people to read it, but how.
Here is a list of actions you can/should take once finished with your blog site to get it noticed better on the web by free submission:
Proof Read
Re-read your entire blog and make sure there are no errors. You want your readers to take you seriously as a blogger, and come back to read more. Too many spelling or grammar errors can be distracting to the reader causing them to maybe even miss the main point of the blog.
Link Wisely
Put links in where they need to be, if you mentioned any websites, companies, or used any images or excerpts that are not yours, make sure to give them credit. If you have any affiliate links you would like to place, be sure to insert those wisely as long as they go with the flow of your blog site. Readers do not want to feel like you are trying to sell them on something, they want to feel like you are sharing a new piece of information with them. Plus using links correctly is great for search engines when you write more blogs down the road, you can link to another one of your other blogs that are relevant.
Blast through Social Media
If you are not on all the main social networks by now (Facebook, Twitter, Pinterest, Google +, etc.), you may want to think about joining them and making friends if you have a blog site. Every time you complete a blog you should post your clever title, tweet a catchy phrase, connect it to Google +, or pin a picture from your blog site, basically letting your fellow networkers know that you've just completed a blog post you would like them to read. With not a whole lot of effort, you can set up your main social networks to auto post every time you publish a new blog, for example:
Update Facebook Page. Log in to your Facebook personal page, go to http://apps.facebook.com/social-rss

, go through the steps to basically approve the app to access your basic information to post on your behalf, and put in your feed url.

Use Google + to Share Your Post. I hope if you have a Google + profile for yourself, you have by now set one up for your blog site. Either way, share your published post to Google +, whether it's on your personal Google + page, your blog's Google + page, or both.
Social Bookmark it to other Blog Site Directories:
Submit to Digg. Keep in mind it is better for your friends or readers to "digg" your blog post for you, than for you to do it yourself. If you do decide to submit your blog to digg try not to do it too often or they may penalize you.
Add your page to StumbleUpon. If you do not have the StumbleBar you can add a page from your blog by navigating to your StumbleUpon profile. Again, remember to be real, don't just add content from your blog only, add other interesting blogs or website. A great way to attract friends and readers!
Bookmark it on Delicious. The easiet way to link your blog to Delicious is to get the Delicious Bookmarklet, if not you can always copy and paste the link directly in to Delicious.
Share your blog post to Bizsugar. A website that is geared toward getting business blog post, videos, and other content out there on the web for others to network, give feedback, and ratings on.
Blog it on Tumblr. Submit a picture, quote, video or an excerpt from your blog site to Tumblr.
Claim your blog on Technorati. The leader in internet search engine for crawling blogs. Claim your blog by entering your URL in to your personal page's profile on Technorati.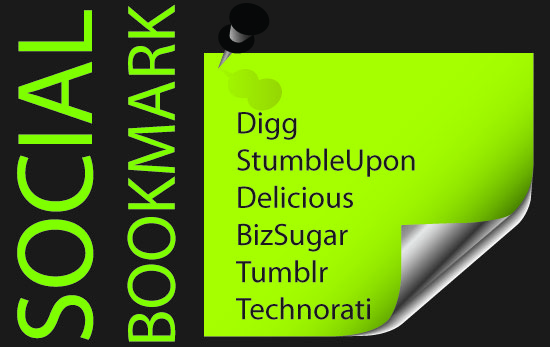 Put your Blog Link Everywhere Else
Put the URL to your blog site in your email signature and make sure all your profiles out on the web are updated with it as well in the about section, or any section you can put your URL in. You may want to consider shortening your URL if it is too long. This can be handy when you want to make quick "tweets" and you are allowed a certain amount of characters.
Add a Newsletter
Keep your loyal readers always in the loop by doing a daily, weekly, monthly, or quarterly newsletter by adding a simple form on your blog site asking for as little as a name and email. MailChimp is one of the most easiest, trusted ways to capture emails and send out newsletters, plus they are free to use up to a specific amount of emails.
Free Submission to Google and Bing
Submit to Bing. Copy and paste the URL to your blog site on the Bing index and type in their special characters so they know you're a human. You can also sign up for Bing Webmaster Tools and submit your URL in the Index tab. Be prepared to sign up and sign in with your Microsoft email account. You will need to know a little bit of how to put in the coding to the back end of your blog site.
Submit to Google. Add the URL of your blog site to Google's index. Then similar to Bing, sign up Google Webmaster Tools to start indexing your website.
Keep Your Blogroll Updated
What every blogger should have, a blogroll. Be sure you add your blog to the "Blogs you Like" on any of the blogging platforms you have this feature for so readers will notice your blog.
Send Pings to Ping-O-Matic
By simply putting in your blog name and URL, you can "ping" to let different search engines know you've updated your blog. Just another simple way to get your blog out there. The image below shows this free submission for your blog site in better detail: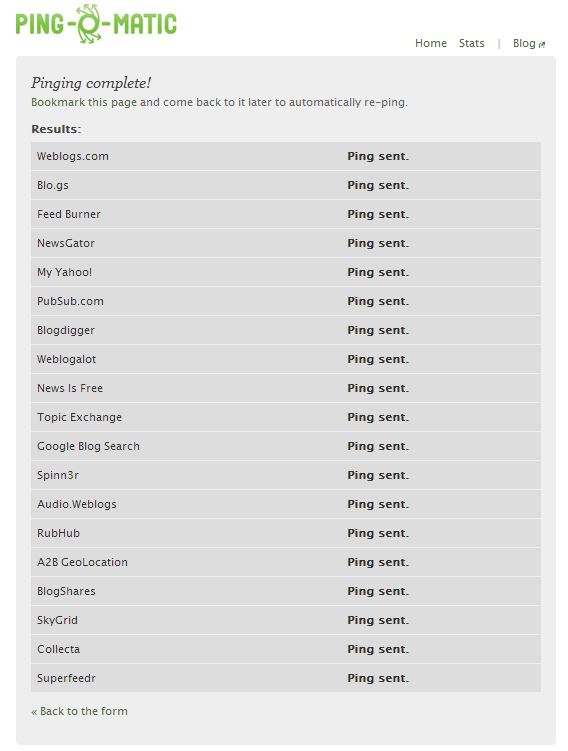 Participate in your Blog
Respond to everyone who responds to your blog, and start up a conversation. If you have people that comment on your blogs, make sure to respond to them and maybe even start up a conversation. You're more than most likely to get fans if you act like a normal, genuine human being.
Participate in the Blogging Community
Why should people come visit and read your blog if you are not willing to do the same thing? Stay active in the blogging community, find some bloggers you can follow, add to your blogroll if you have one, comment, share, or like blog post you become interested in. People may find interest in you, leading them right to your blog.
Make Friends
Not only because it's always nice to make friends instead of enemies, but this can be beneficial to both sides when it comes to publishing new content. Make friends in the blogging community and ask friends to help mention your new published blog in a post or status update. In return you could always do the same for them. Win win!
Keep Track
Track your progress by setting up your blog site with tools such as Google Analytics to see what kind of traffic your driving to your blog and from where.
Write Another Blog!
And finally, after you have done what you can to get your blog out there more to the web, write another blog and do it all over again, and keep blogging. Eventually somehow linking all your blogs if it makes sense. I wish you much luck, and if you are truly passionate about it, don't ever give up, blog on! If you are interested in learning any new blog tools, I have a whole list in my article here.