There are thousands upon thousands of hashtags out there to choose from for every different type of category you can think of whether talking about a certain holiday, cause, shopping, health, business, blogging, art, online tools, and pretty much anything else you can think of, but whatever it is, there has to be a hashtag that can go along with it. Today in social media hashtags are being used more and more across Twitter, Google+, Instagram, Flickr, Pinterest, Facebook, Tumblr, and I am sure even more social networks than listed.
What are hashtags?
Hashtags are basically simply keyword(s) put together with a hash symbol "#" before the word to make it more searchable in Twitter, Instagram, or the other social networks listed above, just depends on what you are working in. I think of using hashtags as if you were categorizing your posts, tweets, or pictures, and when people search or click that hashtag, then all the post or tweets labeled with that hashtag appear. When searching beware of spammers online who will use multiple hashtags that have nothing to do with what they are posting.
You can use multiple hashtags as well. By using the top hashtags wisely you are giving your post more of a boost to be noticed more online.
The video below with Jimmy Fallon and Justin Timberlake about hashtags, pretty much sums up what they are all about and how they are used today:
[youtube id="57dzaMaouXA" width="600″ height="350″ autoplay="no"]
This video is funny, but so true. I will be on Pinterest, Facebook or Twitter and I will see a post or tweet with nothing but hashtags. Some people will make their entire sentences, each word in it, out of a hashtags.
Hashtags.org is a great resource to figure out which hashtag are trending on Twitter, and how often during which times they are. It is even great to use if you are just curious to see which trends are falling, rising, or becoming the most popular on Twitter.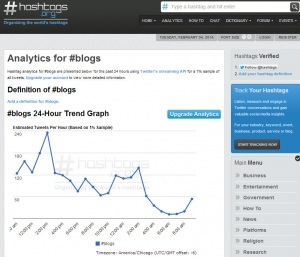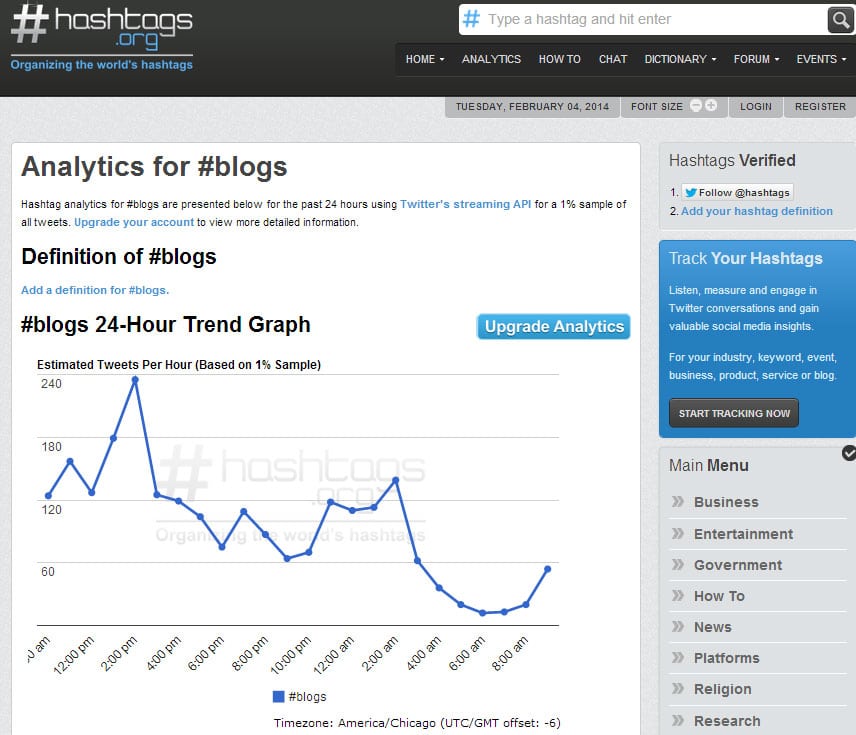 So now let's get in to what you came for, you need a list of the top hashtags to use. Why not give your post an extra boost right? Please note these appear to be what's trending online now, but statistics could change day to day as the world changes.
List of the Top Hashtags
Top Hashtags for BLOGGERS:
#Blog
#Blogs
#Bloggers
#Blogchat
#MondayBlogs
#Blogging
#Blogpost
#miscellaneousblogtips
#bloggingtips
#probloggingnews
#problogging
#savvyblogging
#blogpromotion
Top Hashtags for Mommy/Women Bloggers:
#mommybloggers
#mombloggers
#bizchickchat
Top Hashtags for Social Media:
#SocialMedia
#SocialChat
#BlogChat
#SMManners
#SMChat
#BrandChat
#SocialMediaExperts
#SocialMediaTips
#SocialMediaTalk
#MmChat
Top Hashtags for Graphic Design:
#GraphicDesign
#FineArt
#Design
#Graphics
#photoshop
#artwork
#Illustrator
#Logos
#Tshirts
#DesignYourMind
#DigitalArt
#Dots
Top Hashtags for Web Design:
#WebDesign
#WebHosting
#WebDesigner
#Web
#SEO
#Typography
#CMS
#Branding
#WebDevelopment
#HTML5
#CSS3
#Inspiration
#Templates
Top Hashtags for Businesses:
#BrandChat
#B2BChat
#SmallBusiness
#SocialBusiness
#Startup
#SmallBiz
#SMB
#AgencyLife
#Startups
#Leadership
#Retail
#Restaurant
#InvestInWomen
#Tech
#EdTEch
#Marketing
#(YourCompanyName)
Top Hashtags for Authors/Freelance Writers:
#AmWriting
#AmEditing
#Wordcount
#AuthorLife
#WritersLife
#WritingParty
#WriteChat
#WriteGoodNews
#WritingTip
#WriteTip
#GetPublished
#SelfPublishing
#Publishing
#AskAgent
#AskAuthor
#AskEditor
#EBooks
#BookMarketing
#TenQueries
Top Hashtags for Writing Inspiration:
#WritingPrompt
#StoryStarter
#WordAThon
#Creativity
#WIP
Top Hashtags for Book Genres:
#RomanceWriter
#RWA (Romance)
#YALitChat
#SciFiChat
#KidLitChat
#ACFW (Christian Fiction)
#MGLit (Middle-Grade)
#SCBWI
#MemoirChat
Top Hashtags for Readers:
#FridayReads
#BookGiveaway
#MustRead
#LitChat
#StoryFriday
#MustRead
Top Hashtags for Photography:
#Photography
#Photographer
#Photog
#Camera
#DSLR
#Lens
#PhotoShop
#HDR
#Photos
#Foto
#Fotograf
#Picture
#PicturesOfTheDay
#POD (Pictures of the Day)
#PhotoJournalism
#StreetPhotograhy
#Portrait
#WeddingPhotography
#Travel
Top Hashtags for Causes:
#Activism
#Causes
#CharityTuesday
#CSR
#Fundraising
#NPTeach
#Grants
#SM4SG
#SocialGood
#Volunteer
#Foundation
#Donate
#Grantwriting
#Philanthropy
#Video4Change
Top Hashtags for Fashion
#Fashionable
#Fashion
#Body
#Weight
#Modern
#Shape
#Fit
#Sophistication
#Designer
#Dapper
#MenFashion
#Fashionista
#Accessories
#MenStyle
#Male
#FashionBlog
#FashionBlogging
#FashionKids
#Stylish
#Handbags
#FashionStyle
#Vintage
#Pants
#Shoes
#DressUp
#Hipster
#HairStyle
#Collection
#Outfit
#Boho
#Girl
#HighHeels
Top Hashtags for Health and Fitness:
#Fitness
#Health
#HealthyFood
#InspireHealth
#Motivation
#Workout
#HealthyBodyHealthyMind
#Active
#GetToTheGym
#HealthyEating
#GymTime
#Training
#FitnessAddict
#Physique
#ExercisePlan
#Abs
#SixPack
#ICanDoThis
#Exercise
#GymFlow
#Power
#SelfBelief
Top Hashtags for Humor:
#Humor
#ThatJustHappened
#Silly
#Smile
#Comedy
#Laughs
#Funny
#MyGirlFriendisNotAllowedTo
#CareerEndingTwitterTypos
#1LetterWrongMovie
Top Hashtags on Instagram:
#love
#instagood
#me
#like
#follow
#cute
#photooftheday
#TBT
#FollowMe
#TagsForLikes
#Girl
#Beautiful
#Happy
#PicOfTheDay
#InstaDaily
#Igers
#Fun
#Summer
#Smile
#Like2Like
#Friends
#Food
#InstaLike
#Swag
#BestOfTheDay
As you can see, the top hashtags trending on Twitter may not be what is trending on Instagram. Remember you are dealing with different demographics across the different social networks. So again, use your top hashtags wisely and pick the right ones related to what you're tweeting or posting.
Even if you are just looking for inspiration as opposed to actually using hashtags, by searching the top hashtags you will more than mostly find the inspiration or information you are looking for. And if not, there is always Google!
If I missed any top hashtags great to use, please leave a comment, or if you have any favorite ones you like to use, please let me know.