Finding good, or even great top affiliate marketing programs that pay out is critical when you blog or make a living out of selling products on your website. It's important to keep in mind that when you use the top affiliate marketing programs to not just stick a random link out there on the web, but to strategically place it within your content or on your website so it comes naturally to your visitor to click on. Below is a list compiled of the top affiliate marketing programs, all free to join, based on research I have completed and reviews I have read on each.
First of all, what is an affiliate marketing program? An affiliate marketing program provides merchants a place to sell a product or service through their program that has a separate network of users who search out those products to market with their own efforts within the affiliate marketing program policy. Sometimes the user will need to apply to market that specific merchant's product or service, while sometimes they have automatic access to others. The merchants usually provide everything needed to market their product or service online such as banners, ads, text, and unique URL for tracking. When the user is successful in selling a merchants product or service, the merchant usual rewards them in giving a flat rate or percentage of the sale.
Top Affiliate Marketing Programs:
Commission Junction. This company continues to be one of the top affiliate marketing programs since 1998. Offers the highest amount of merchants available for publishers to choose from coupons sites, apparel, cosmetics, printing services, real estate services, online tools, vitamin sites, the list goes on and on. You do need to look through the list and apply for each merchant that interest you individually. Each merchant comes complete with information on their company, how much you can earn, and more.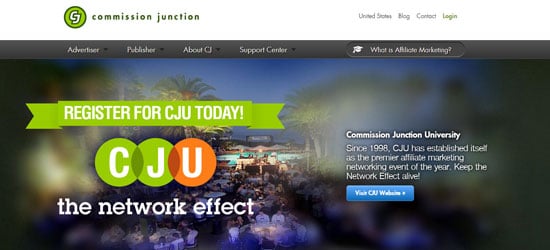 (Rakuten) LinkShare. Another one of the great top affiliate marketing programs that offers a wide range of advertisers from auto, business, family, health, internet, apparel, travel, and more. Runs similar to Commission Junction in a lot of ways, find advertisers and start applying for the ones that may interest you quickly and easily.
ShareASale. Similar to LinkShare and Commission Junction, join, find merchants, and apply, and start using their links and banners. Their website is fairly easy to navigate around to find specific merchants you may have in mind, and tracking on approved and pending merchants.
ClickBank. Unlike with many of the other top affiliate marketing programs, you don't have to apply to promote a vendor's product. You simply browse their categories or use the search to find products. You can scroll through, read the vendor's information and check out their pitch page, then if interested, you can create a "HopLink" unique to yourself to start promoting. ClickBank's Marketplace contains vendors specific to arts, entertainment, business, cooking, educations, health, reference, self-help, sports, software, and more.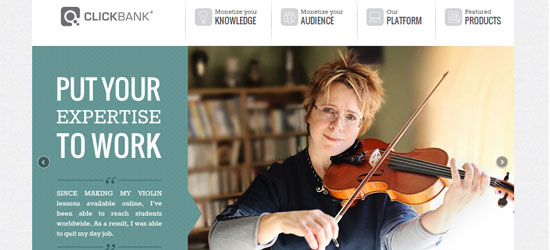 Top Affiliate Marketing Programs for Online Shopping:
Amazon Associates. If you do not know who Amazon is, they are an online eCommerce store with a ton of products from books, electronics, home items, beauty, health, toys, clothing, shoes, jewelry, sports, automotive, and more. Amazon Associates remains to be one of the top affiliate marketing programs offering over a million products to advertise on your website or blog, with easy to use tools to display those products such as widgets, banners, and more.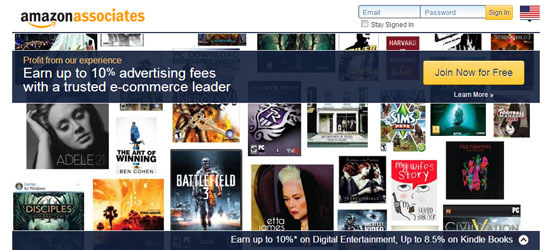 eBay Partner Network. This top affiliate marketing program pays you to drive quality traffic to eBay or one of their partners. eBay provides you will tools such as banners, links, RSS feed generators, products feeds, and more. They pay for quality clicks by evaluating the traffic you send to eBay through your website.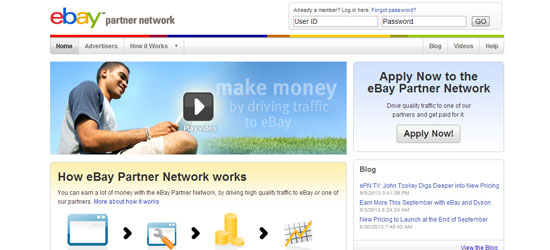 Top Affiliate Marketing Programs Focused on Software:
One Network Direct. Focuses on top brand merchants such as Mircrosoft, Logitech, McAfee, and more centered around software and consumer electronics. Contains a product count of over 400,000 titles in their DirectStream product catalog. This is one of the great top affiliate marketing programs for a blog or business centered around technology and software.
Top Affiliate Marketing Programs that do Affiliate Linking for You:
Skimlinks. Opens up a whole new world of shopping to both affiliates and it's publishers. Works with over 18,000 total merchants including big names such as  eBaby, Zappos, Macy's, iTunes, and more. Offers tools to it's users such as SkimLinks, Skimwords, and Showcases to help monetize your website. They basically convert links and product references into affiliate links that lead to relevant purchases.
Viglink. Another affiliate marketing program similar to Skimlinks where they automate your linking from the content within your website so no more managing multiple affiliate marketing program's links. You have the opportunity to earn from over 30,000 retailers and advertisers including big names such as Target, Overstock, Walmart, and more. You can even use Viglink to earn revenue with social networks such as Facebook, Twitter, or Tumblr.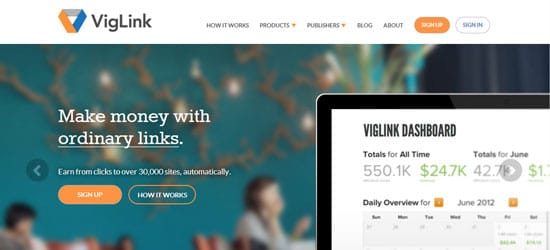 Yieldkit. Similar to SkimLinks and Viglink, another great alternative option to monetize your website without the hassle of inserting multiple different affiliate links from all different affiliate marketing programs. Yieldkit has over 24,000 advertisers they work with such as Apple, Fab, Gap, Groupon, and more.
Working Up to Top Affiliate Marketing Programs status:
FlexOffers. Works with many large and small businesses in the industry of shopping, finance, travel, entertainment, and more. Some big names include Target, Best Buy, Macy's, JCP, Esurance, and more. They offer many tools to make publishers successful in finding the right customers for the products they want to promote.
JVZoo. This program is similar to ClickBank and DigiResults with a Marketplace of Sellers who offer pitch pages you can customize with your unique URL. You can even earn up to 100% instant commissions, and payment comes straight from the vendor, not the customer who purchases the product.
DigiResults. Another affiliate marketing program with similarities to ClickBank and JVZoo where it contains a Marketplace for affiliates to choose which products they want to promote. Categories include art, business, education, health, self help, travel, and more.
Once you know which affiliate programs you would like to go with, check out my How to be a Better Affiliate post here for some tips.
Which ones have you or will you join? You will notice a lot of the top affiliate marketing programs will have many similarities, but keep in mind they also have a lot of differences as well. You will find as you get more in to the world of working with the top affiliate marketing programs, some of these programs will work for you, and some will not. You will never know unless you try, so my advice, jump right in, apply, try it out, and if needed, make a change to best fit you as a blogger or business owner.