One of the topics I like to blog about is usually how to make money online, but today I'm to do a Receipt Hog Review which has more to do with making money with mobile apps. It was so easy for me to make my first $30 with Receipt Hog so I figure what the heck, I'm going to share my Receipt Hog review from a personal experience aspect of how I did that.
**This post contains affiliate links & I will be compensated if you make a purchase after clicking through my links.
My Personal Receipt Hog Review:
What Receipt Hog is all about. Receipt Hog is a free mobile app for the iPhone or Android you simply use to earn coins by submitting your grocery store receipts. From there, by uploading your receipts, it may give you an opportunity to earn even more coins depending on products or amount you spent at the store. Receipts can be from any grocery, supercenter, convenience mart, beaut supply, or pet store. It doesn't matter what you buy as long as it is from one of the 10,000 grocery stores approved, they look at the total you spent. I've uploading receipts from Fry's, Walmart, Target, Dollar Stores, Dollar General, and Sprouts just fine. Keep an eye out for when they let you upload all stores receipts. Last November during the holiday season, they allowed their users to upload all retailers' receipts until the end of December so I was able to upload receipts from Kohl's, Famous Footwear, and a few others for coins. **FYI, remember to upload your receipts within 14 days from the date on the receipt. That should be plenty of time!
How much you can earn with Receipt Hog. This depends on how many receipts you upload and how much you are spending per receipt. Here is their breakdown: <$10 = 5 coins, $10-$50 = 10 coins, $50-$100 =15 coins, and $100+ = 20 coins. You may submit up to 20 receipts per week, which I have never submitted close to that amount so that's not a bad limit at all. When you have enough coins, you can then choose to redeem for cash to deposit in your PayPal account or redeem for an Amazon gift card. See my screen shot below, they make the choice easy: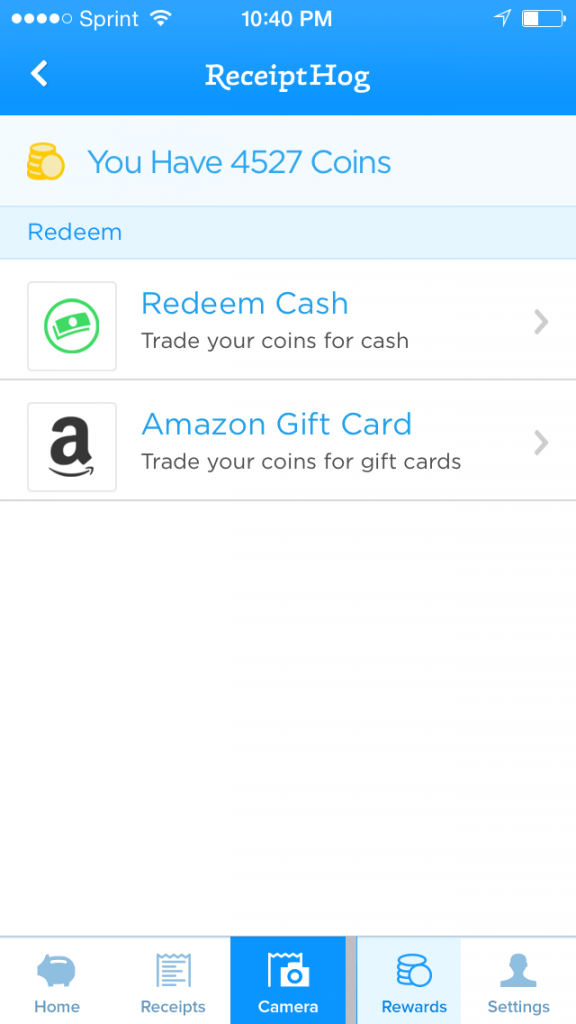 As you can see from another screen shot below, the longer you build up your coins to cash out, the better value rewards redemption for you, which is what I did. Once I hit the 4500 Coins mark, I cashed out my coins for the $30: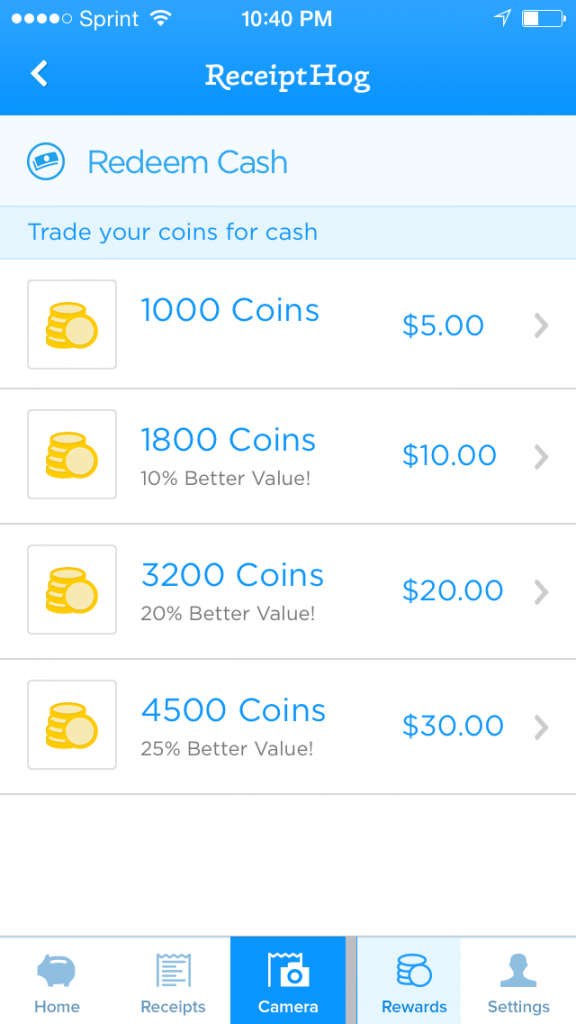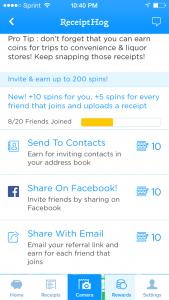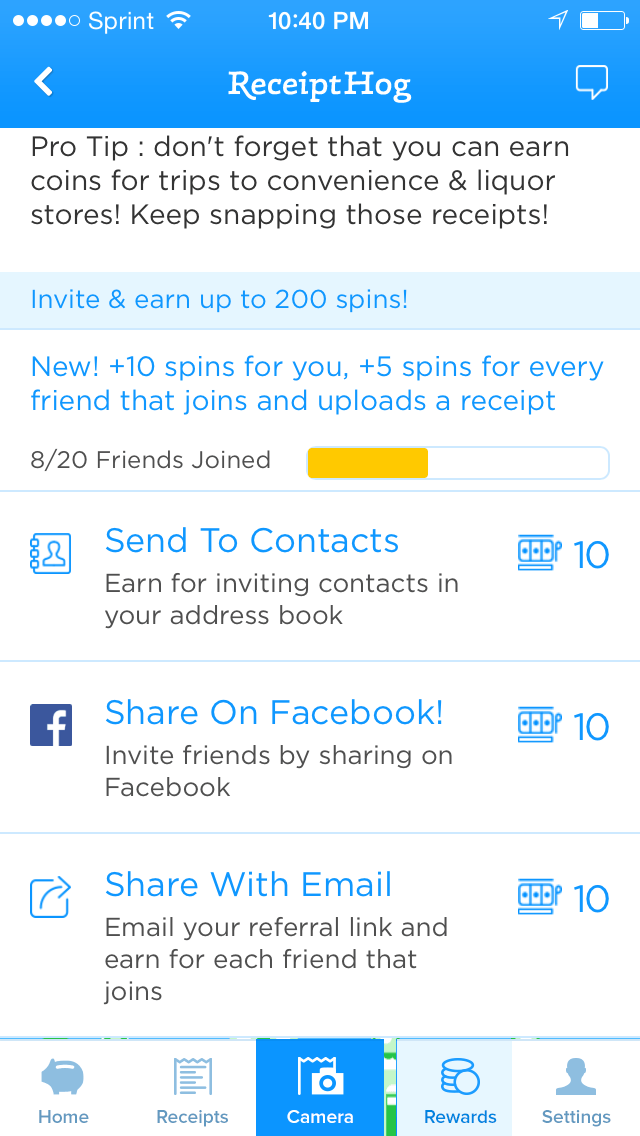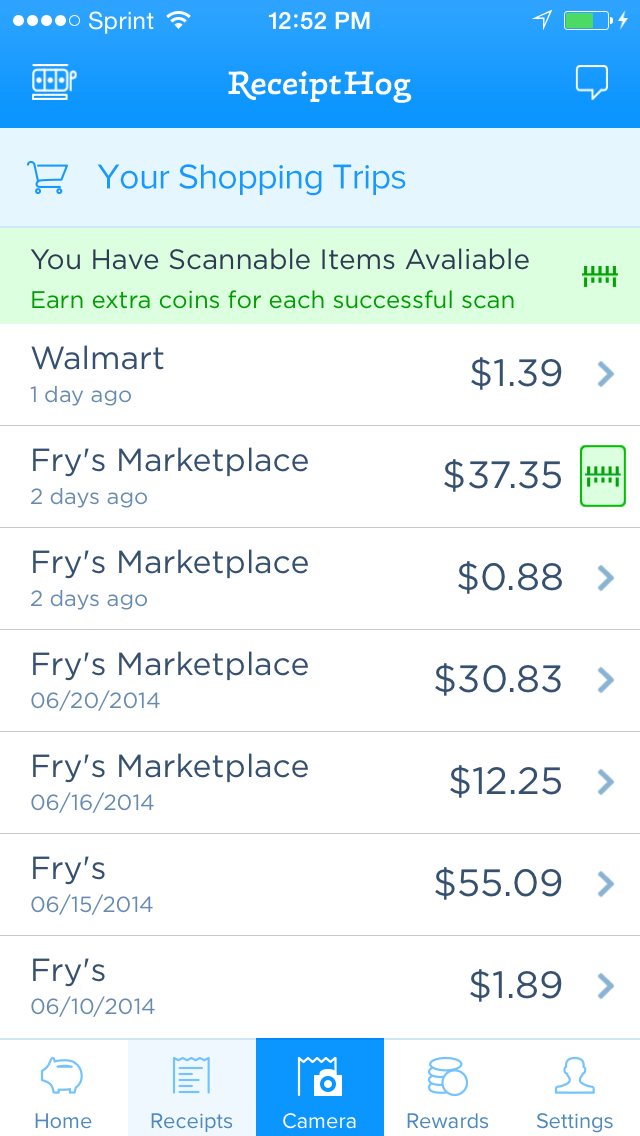 Other ways to earn $$$ with Receipt Hog. Besides submitting receipts, there are many other ways to earn coins with Receipt Hog which will turn in to cash or an Amazon gift card. Specially for this Receipt Hog review, here are a few other ways I earned extra coins:
Hog Slots – With almost every receipt I uploaded, I got at least 1 Hog Slot spin, again this depends on how much your receipt is worth. When I did each spin, every couple of spins I would get an average of 5 or 15 extra coins, but some spins I would get 0, just a luck thing I guess. However, the most I've received on a spin was 400 coins!!!
Product Scans – You will not see product scans available with every receipt, but this is a newer feature where they have you scan some of your items you purchased for coins. Sometimes they do it, sometimes not, just keep an eye out after each receipt is processed.
Connect with Facebook to get 6 Hog Slots. Easy breezy!
Referral Program – Refer people and get 10 Hog Slot spins for each person who joins. You can  easily send to your contacts or share on Facebook, and also by putting your referral link out there.
Surveys – If you ended up purchasing a product they have a survey for, it will show up in the Rewards section of the mobile app. These surveys are quick, takes me less than 3 minutes to complete and I usually earn 10 coins right there.
How long did it take to make that $30? Yes of course, one of the important pieces to know of my Receipt Hog review! I couldn't believe when I looked at the receipt upload history, it took approximately 11 months for me to earn that $30. Time flies I guess because to me, it did not seem like I was uploading receipts for 11 months. During that time, on average I would say I only uploaded 3-6 receipts per week (as opposed to the 20 a week you can upload), completed about 20 quick, less than 3 minute surveys. So just an idea of how much, how fast (or slow) you can earn money with Receipt Hog.
Downside to my Receipt Hog Review. I would say the only downside worth mentioning for Receipt Hog review was two things off the top of my head:
There were a few times, not many though where it took many business days to process my receipts. This can be annoying when you want to throw away or file away your receipts but can't in case you need to re-upload to Receipt Hog.
It took 5 days for Receipt Hog to finally process and approve my $30 to deposit into my PayPal, but I cant complain too much because they still paid. I am use to apps like iBotta that are immediate when you request a payment into PayPal. They do make you aware of that though, see screen shot below: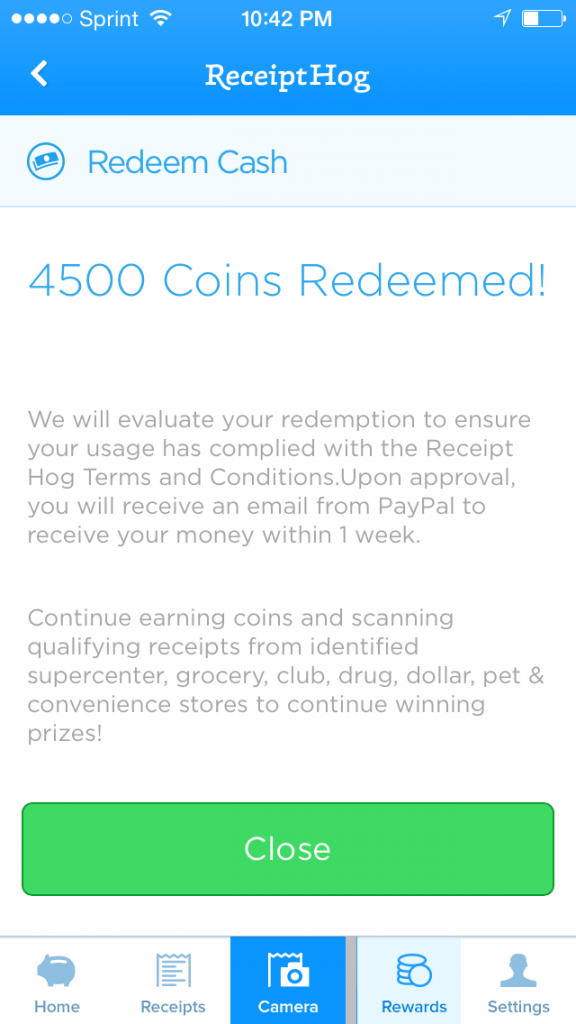 Another  nice thing I will mention about Receipt Hog is how easy it is to upload receipts. There were maybe two or three times over the 11 months where I had to upload a receipt for the second time because of it being too blurry, which was my fault anyways. Now I always take a picture of the whole receipt, then I take another shot of that same receipt, but zoom in over the total spent. Just a tip!
Although Receipt Hog is not a get rich quick type of mobile app (are any really?), I think it's a great way to get some extra cash just for uploading your receipts every week. It literally takes less than 1-2 minutes to do each receipt, if you already have the receipts, might as well right.
I hope you found my Receipt Hog review to be beneficial and if you're interested in joining, you can always help give me more spins by using my referral link here: http://app.receipthog.com/share/z6mab2sy. Thanks for reading!
If you are looking for another great money making app, check out my post, iBotta Referral Program – How to Make $100 Quick. I believe you have the potential to make more money with the iBotta app over the Receipt Hog app. You can also check out a more in depth review here for iBotta.