Want to learn or brush up on your Photoshop skills, listed are 22 super helpful Photoshop tutorial websites to help you be the expert you want to be. The graphic design industry continues to grow more and more everyday, working with a software such as Photoshop will enable you to create a truly amazing end result with knowledge, creativity, and lots of patience.
Whether you are a beginner user of Photoshop or an expert user, this is a great list of Photoshop tutorial websites with a wide range of skills certain to be helpful to all levels.
Photoshop Tutorials – 22 Super Helpful Websites:
WeGraphics
WeGraphics.net is one of my favorite resources to check out from time to time for new Photoshop tutorials. They also offer a lot of free downloads on Brushes, icons, textures, vectors, and much more. Now if you are only looking for tutorials, scroll to the bottom and check out their blog to learn different Photoshop effect techniques, 3D effects, enhancing a photo, or the basics.
PhotoshopEsssentials
PhotoshopEssentials.com offers users Photoshop tutorials for the basics, use of different tools, photo effects, text effects, photo editing and much more. Their tutorials are very easy to follow and understand, in step-by-step format.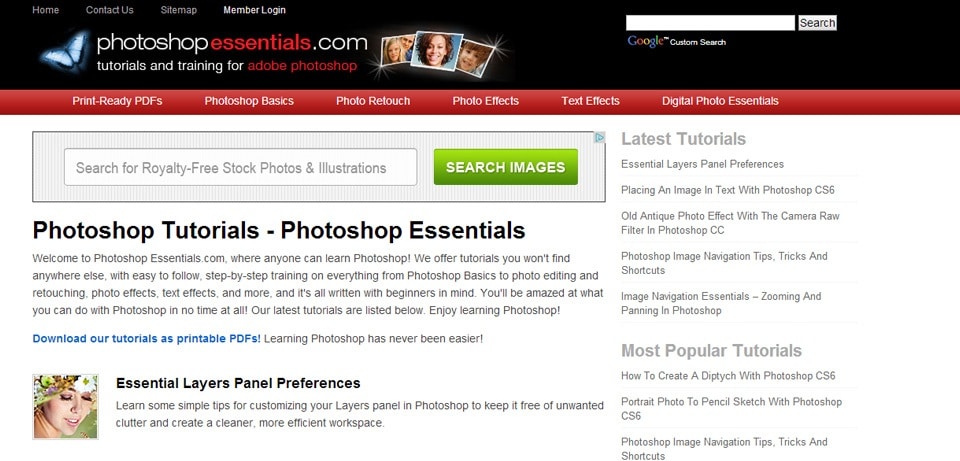 Abduzeedo
Abduzeedo.com is another one of my favorite resources for Photoshop tutorials, plus they offer other great tutorials you may be interested in such as: Adobe Illustrator, Fireworks, and more. Their tutorials are laid out great, easy to follow and thorough, very visual too which I love.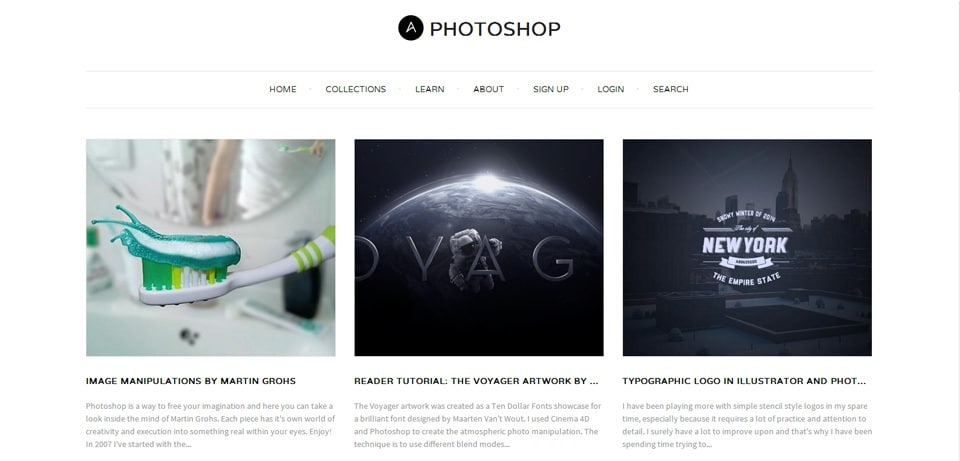 Creativefan
Design.Creativefan.com contains tons of easy step-by-step Photoshop tutorials for a wide range of different techniques, 3D designs, cool photo manipulations, text effects and anything else you can think of. The "creative" in their name certainly sums up their website, offering many tutorials that can give you great inspiration.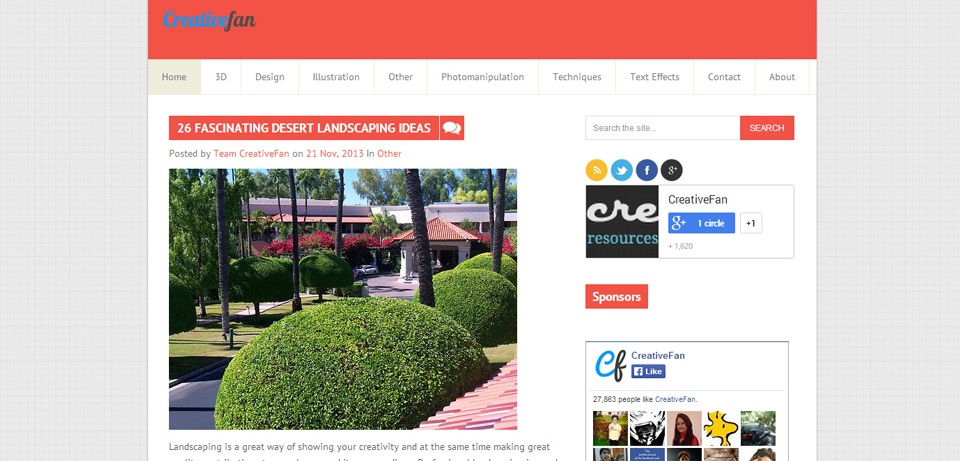 Photoshop Tutorials
PhotoshopTutorials.ws has a wide range of Photoshop tutorials showing users the basics, drawing techniques, different layouts, photo effects, photo manipulations, photo retouching, special effects, text effects, etc.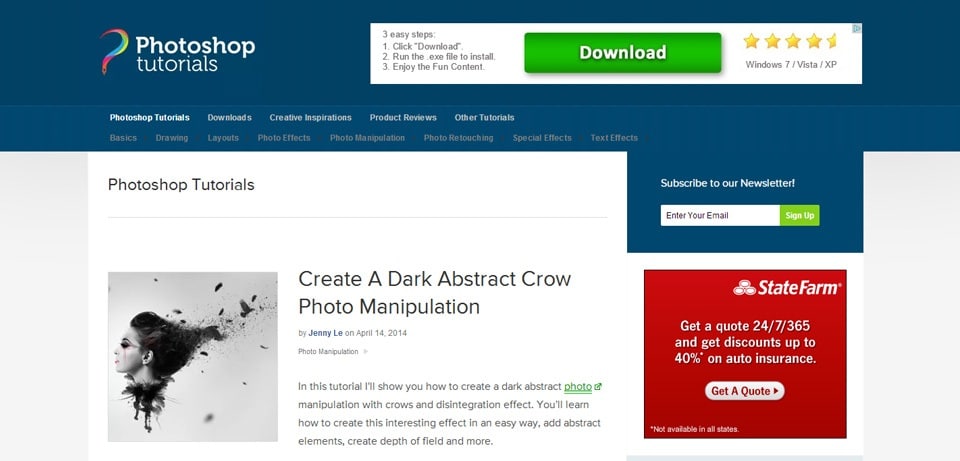 Developer Tutorials
DeveloperTutorials.com has a special Photoshop tutorials section offering lots a lot of older (none newer than August 2010), but still fantastic tutorials to get your creative juices flowing while teaching different techniques and use of Photoshop tools. Above the Photoshop tutorials, they offer many other tutorials on categories in web development, Adobe Illustrator, WordPress, and more.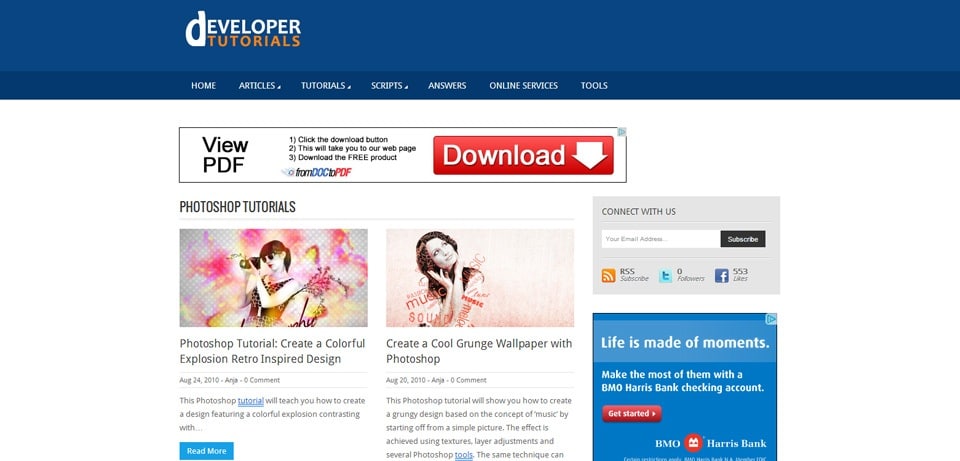 Digital Camera World
DigitalCameraWorld.com is not only a website for photographers, but this website also offers lots of Photoshop specific tutorials utilizing different photo techniques to enhance it even more. If you happen to be in to photography as well, this will be a win win all around.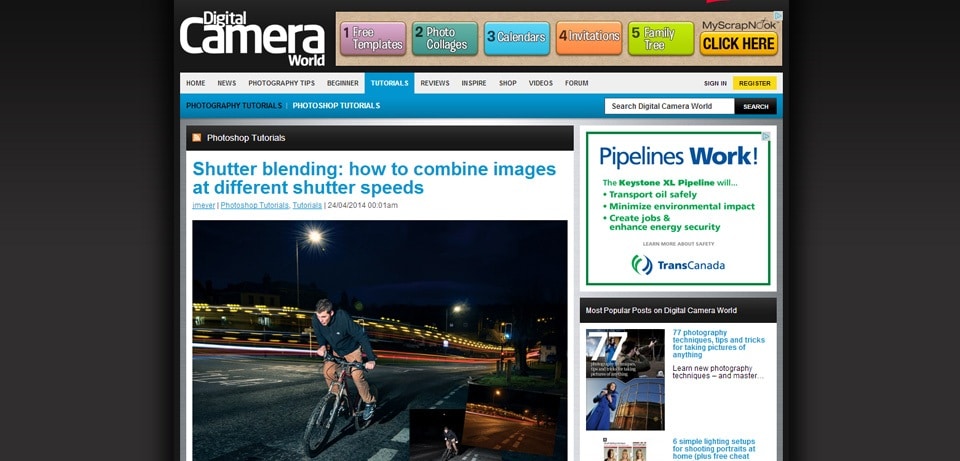 PhotoshopStar
PhotoshopStar.com showcases many Photoshop tutorials using drawing techniques, a wide range of different effects, the basics, tools, and even how to make a website using Photoshop. Learn how to utilize blending modes, create icons, or get educated on other great resources available for a Photoshop user.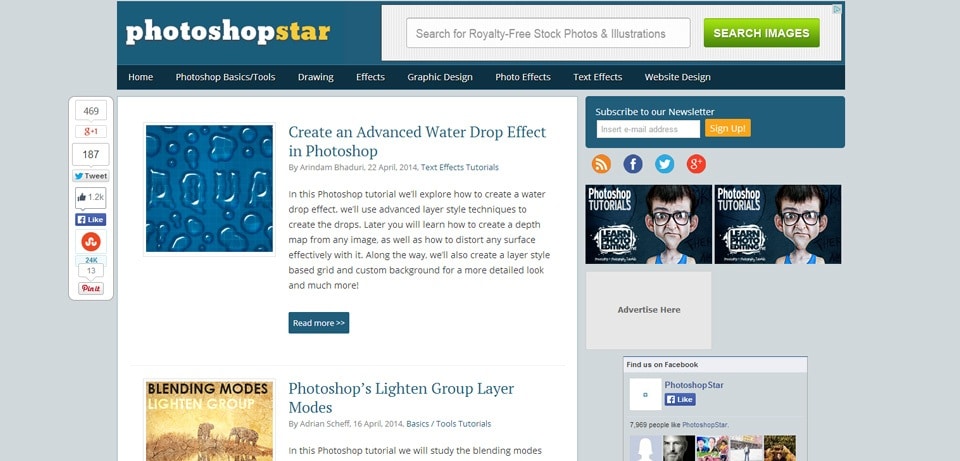 Tuts+
Design.tutsplus.com offers many tutorials on design, illustration, web development, music, photography, business, etc., but offers a special Photoshop tutorials sections with fresh ideas added regularly.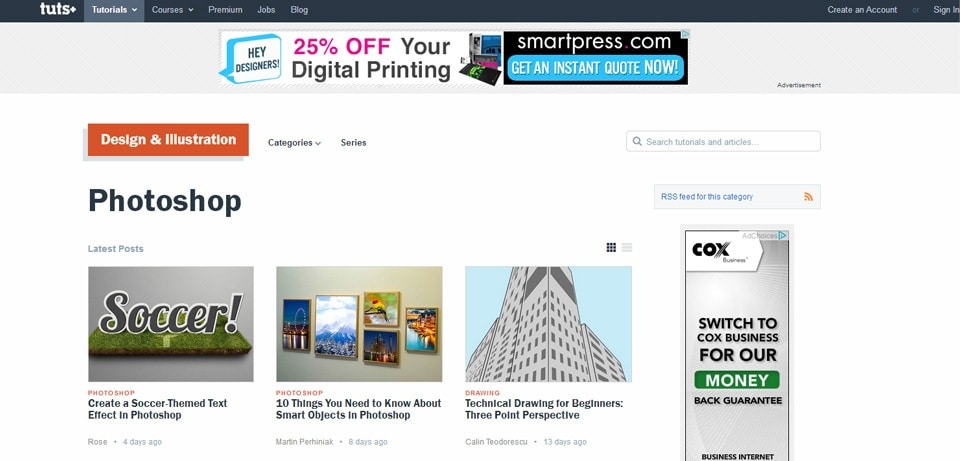 Creative Bloq
CreativeBloq.com has a lot of great Photoshop tutorials among other great posts on resources helpful to have on hand when working with Photoshop. They offer many other different types of tutorials above the Photoshop ones too.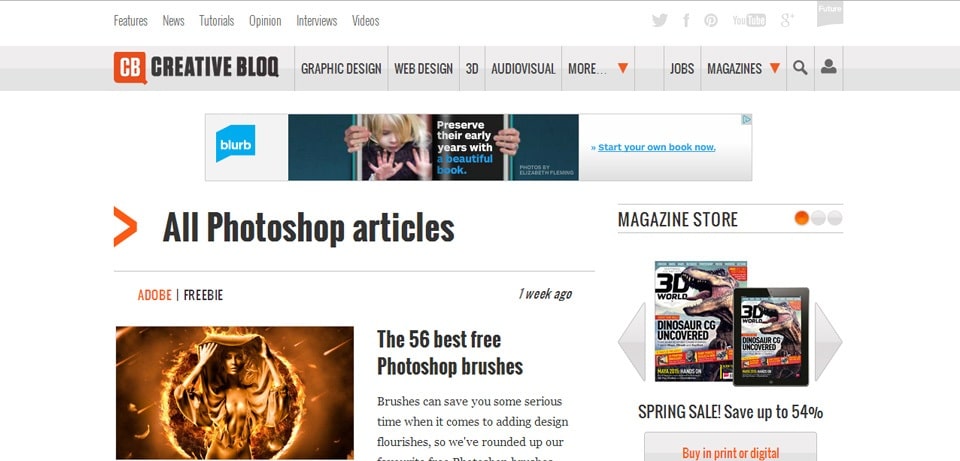 PSDFan
PSD.fanextra.com offers so many cool and originally Photoshop tutorials, added on a regular basis. Features tutorials for creative photo manipulation, 3D effects, photo effects, text effects, icon designs, the basics, and much more.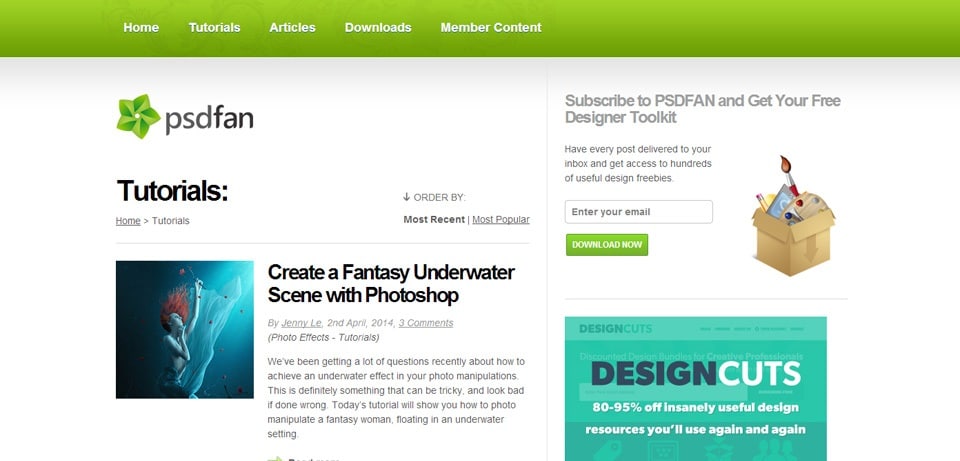 Adobe Tutorials
AdobeTutorialz.com contains many easy to follow how to tutorials showing you different drawing techniques, photo editing, the basics, photo effects, special effects, text effects, and also how to create web pages using Photoshop.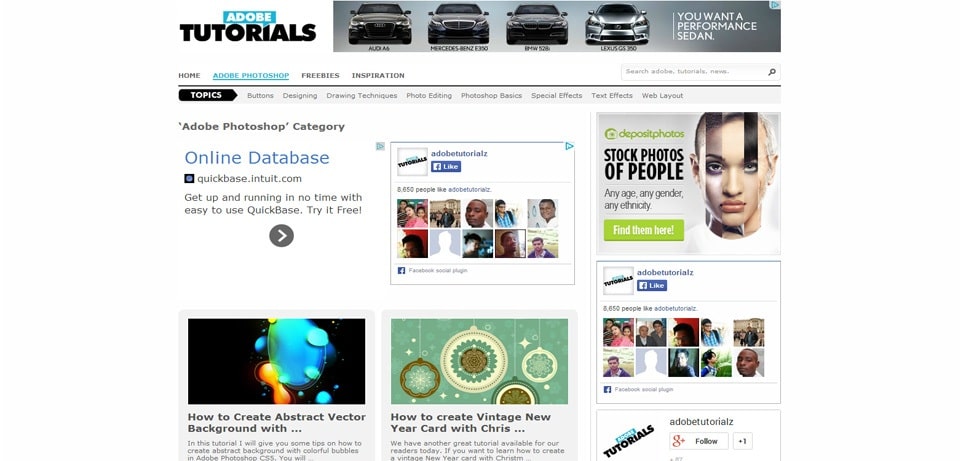 Digital Arts
DigitalArtsOnline.co.uk again is another great resource for all different types of Photoshop tutorials. This website has so many creative and unique tutorials that I could get lost in for hours just by searching through the amazing pieces.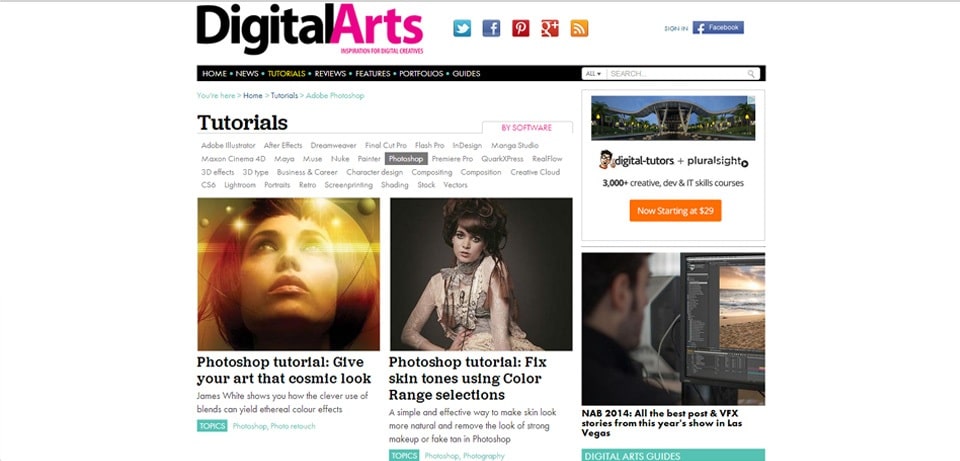 Photoshop Tips & Tricks
Graphic-design.com offers many Photoshop tutorials for coloring, palettes, brushes, text effects, retouching techniques, and more. They offer other resources on typography, photography, business, web design, and much more, a truly interesting site to check out.
PSD Dude
PSD-dude.com offers many great Photoshop tutorials for the basics, drawing techniques, icons, buttons, photo effects, photo manipulations, effects, patterns, textures, and tips. Step-by-step and very easy to follow.
Design Instruct
DesignInstruct.com does not have a specific Photoshop tutorial section, but they are very easy to find on their site and they offer many of them among other graphic design tutorials. A great resource with easy to follow tutorials to help teach you many aspects of Photoshop.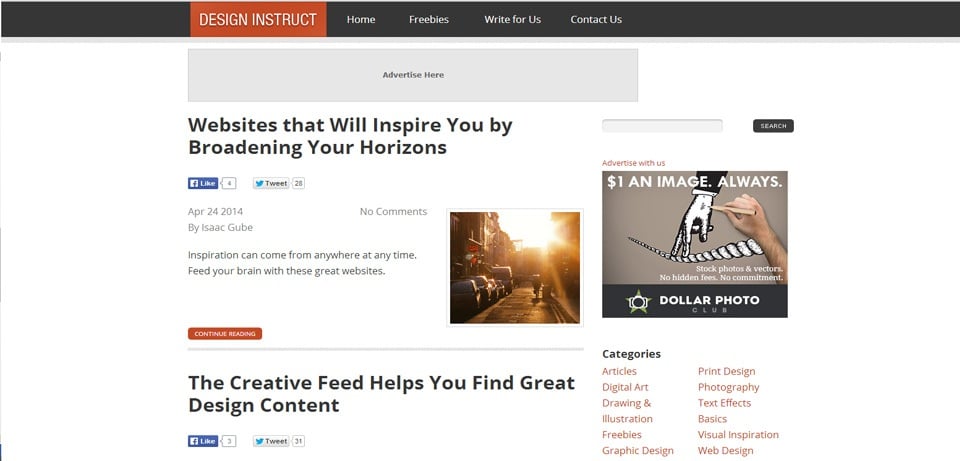 Worth1000
Worth1000.com is a truly interestingly unique site with jaw dropping photo manipulations, offering many tutorials as well to show you how to do your own. I have found some of these tutorials to be a little hard to follow sometimes, there seems to be no consistent format, but if you have the patience, this site has lots of great techniques to teach you.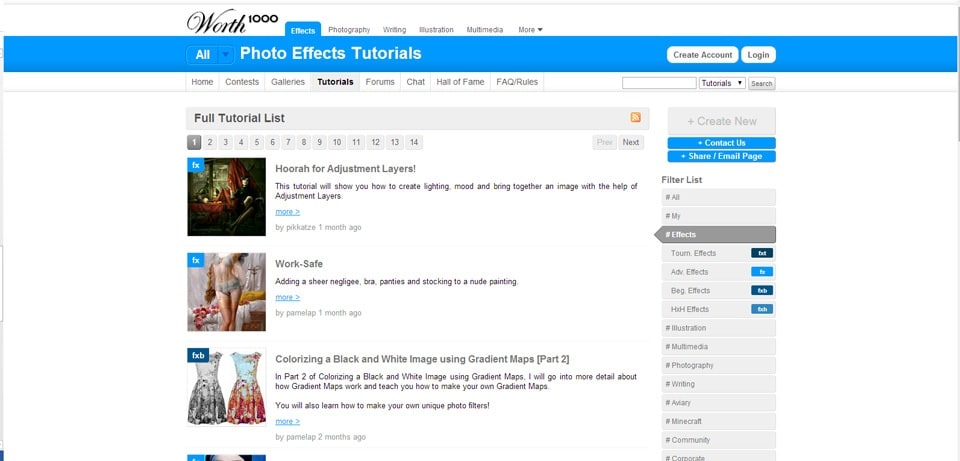 DeviantArt
Deviantart.com is a great resource if you have time to sort out the Photoshop tutorials through all the amazing pieces shown from their different users. Often I have searched google to find tutorials on how to do specific things in Photoshop, and pieces from DeviantArt has come up. Usually the directions show up in picture format so you can download the tutorial and keep it for reference. Simple use their search for "Photoshop tutorials" and lots will show up.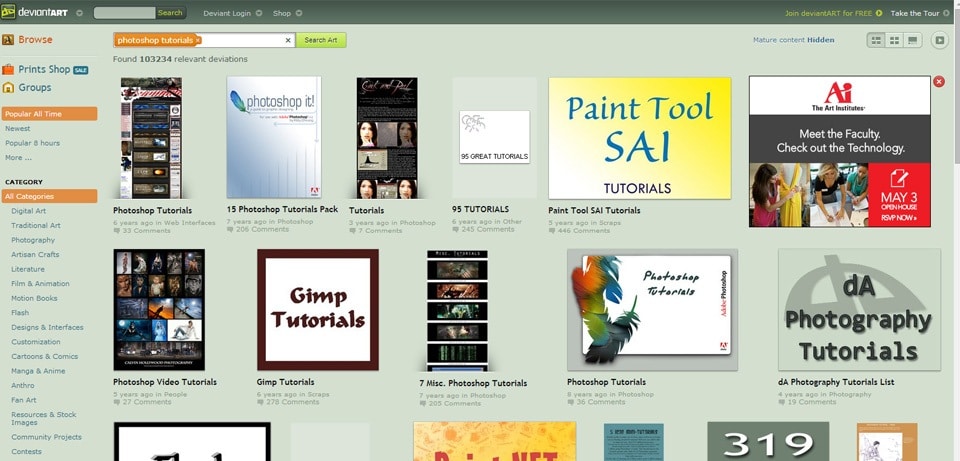 PSHero
PSHero.com has many Photoshop tutorials to show you a wide range of effect techniques, tools, tips, and tricks. Easy to follow step-by-step instructions sure to teach you a thing or two. This website also has great goodies you can download as well for scrapbook effects, photo borders, shapes, and more.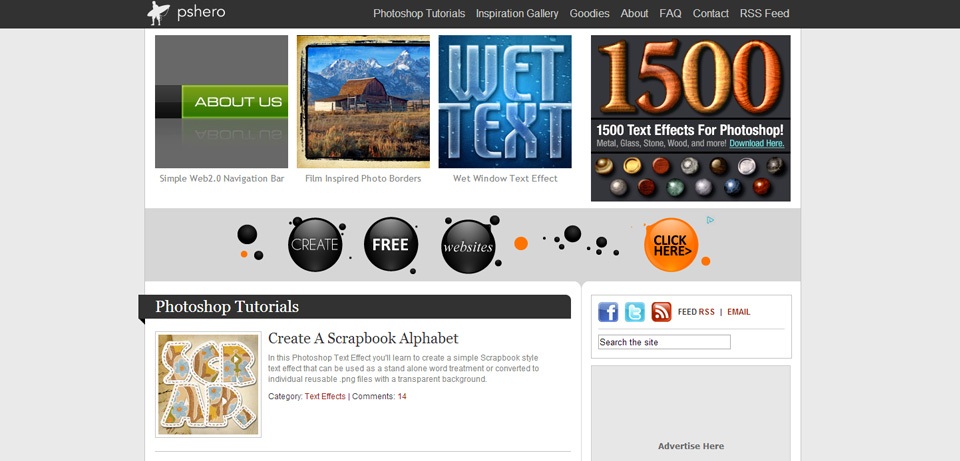 Planet Photoshop
PlanetPhotoshop.com contains many great Photoshop tutorials in both video and text format for photo correction, effects, text, tools, the basics, and much more. Easy to follow and learn from.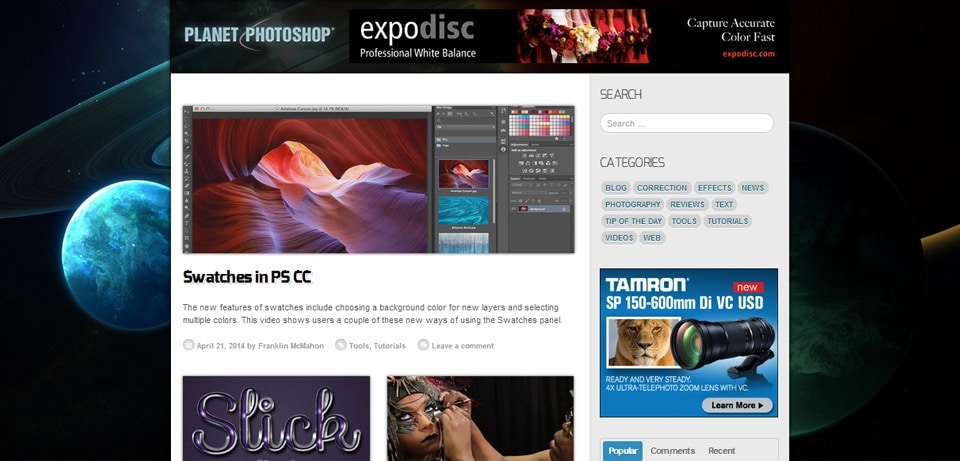 PSDBox
Psdbox.com offers lots of tutorials for their beginner and expert users that walk you through step-by-step, easy to follow. You can find abstract, manipulation, effects, wallpapers, and body retouching tutorials. Plus they offer some cool freebies to download for Photoshop.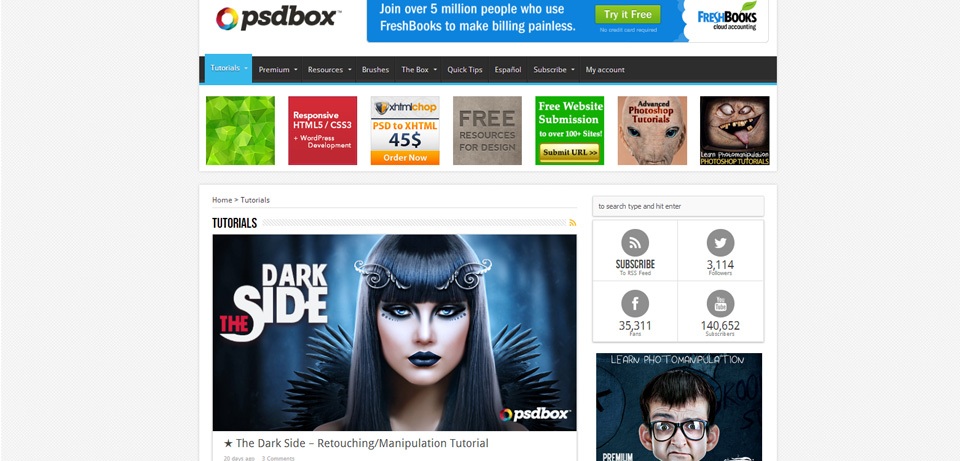 Photoshop Roadmap
PhotoshopRoadmap.com offers tutorial after tutorial for photo effects, retouching, illustration techniques, text effects, tools, tips, and more. Most are in video format right there for you to view on their website, but there are some tutorials that link out to text tutorials on other sites.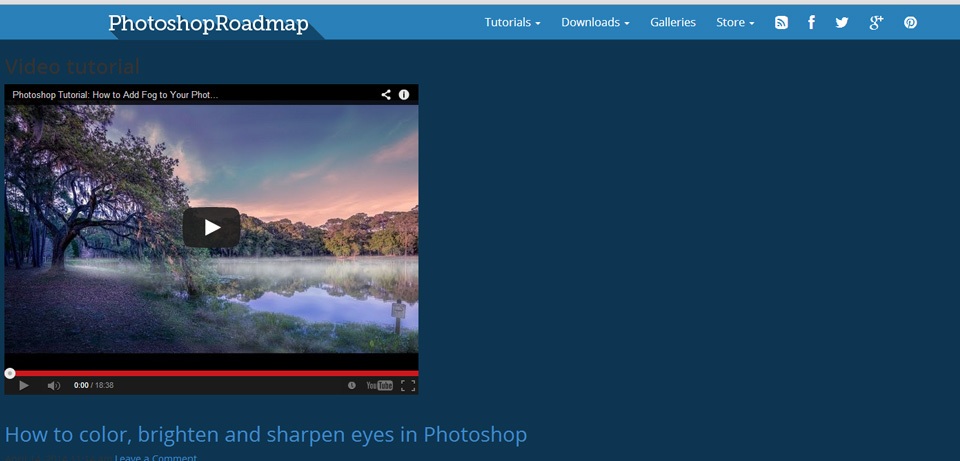 You will notice some of these tutorial sites allow you to download the files they use for free, or sometimes for a small price. If you do not want to pay for the exact files they use, you can do what I always do and take one your photos or find one that is similar online you can use for free.
Did I miss any good websites, please drop me a comment and let me know!