What and Where is the new Myspace Today?
When I first signed up with Myspace way back when they first launched, it was all about finding and connecting with old friends, meeting new ones, I even had some friends treat it almost like a dating site, and there was a lot more to it that you would expect for being the hottest social network. You could upload all your photos to whatever albums you wanted to create, make a cool Myspace profile for yourself, and drop by on your friend's profiles to leave them comments and post photos. From when it first launched in August 2003, to today, you will notice it has completely changed from where it started. I mean we are talking almost a 360 degree type of change. This huge change was influenced by Facebook, which became the next big name in social networking.
Myspace is still a social network, but changed their focus to music to remain in the game with a creative direction. Today Myspace allows their users to share, discover, and connect with music, images, videos, and much more offering email, forums, communities, and plenty of weblog space. This does not mean their users need to be musical artist and die hard fans, but it does help to hold some kind of interest in music to get the whole new Myspace experience.
The New Myspace User Basics
Myspace Profile:
If it's your first time logging in after a while, or first time signing up for a new Myspace account, make sure you set it up right. Fill in/update your basic information such as your full name, username, date of birth, gender.
Select your account type, please note they allow you to select up to four so make it match your profile as best as possible.
Customize your profile by typing up a quick (130 characters) blurb about yourself.
Upload your own profile (140 x 140 min) and cover (1024 x 768) photo.
Pick your own profile song even!
Myspace Stream
Stay updated with what's going on in your Myspace account with your Steam. This is where you will post your updates, check out updates from your connections, you can also search out people and music with their bar at the bottom, as well as use their "Discover".
Myspace Connections
Find People or meet new people on the new Myspace by searching them out by gender (male or female), age (18-50+), or even better, choose to search for people within these categories:
Member
Musician
Photographer
Model
Filmmaker
Designer
Entertainer
DJ
Brand
Venue
Writer
Promoter
Curator
Comedian
Developer
Understanding the new Myspace "Overlapping Circles" for Connections
You will notice on users or content, usually located in the upper right hand comer, there are rings, or what Myspace likes to call overlapping circles, almost like Venn diagrams. This allows users to connect to anything on the new Myspace such as people, artist, content, events, brands, or any other piece of content. The image below is a print screen I took off of Myspace to show a quick overview of what these overlapping circles mean: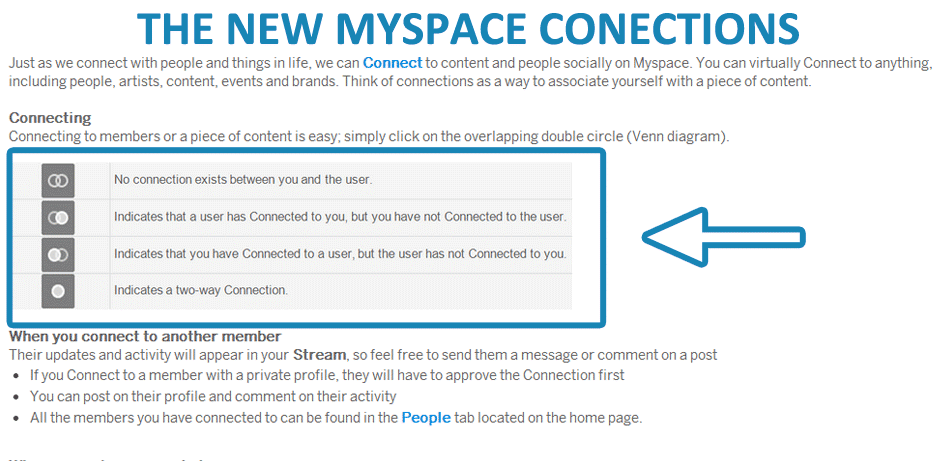 Myspace Portfolio
This a neat feature Myspace offers for creatives of all sorts from visual artists, designers, musicians, photographers, writers, filmmakers, dancers, models, and more. You can see three examples of portfolios below, the layout is great, and you can easily update it to contain your most recent work. Make friends and grow your connections to not only network, but for your work to get more exposure as well. Myspace allows you to select one large piece of content and up to 30 smaller ones to be displayed in your portfolio, you can choose to use all 31 of those spaces, or less, whatever you decide to feature.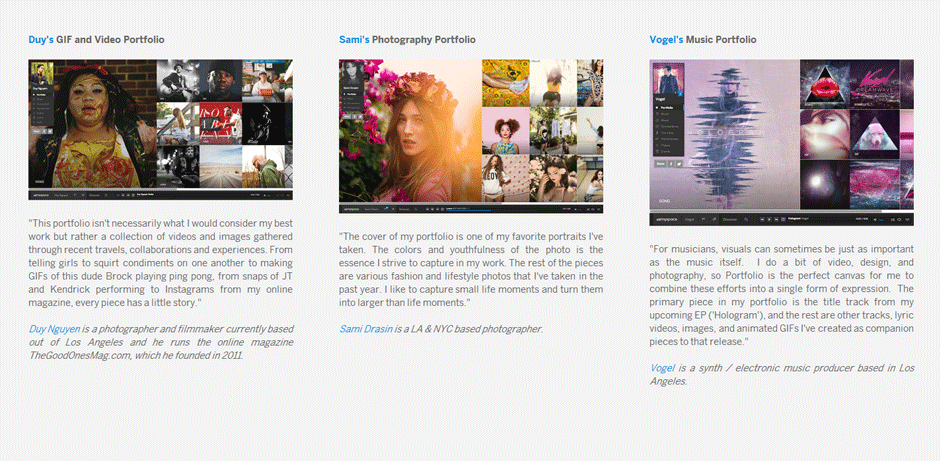 Make Myspace Mixes
The "Mixes" on Myspace, located in your Library, are basically like an album, containing photos, songs, and videos. A creative feature that is unique to Myspace only. You can even add your mixes you create to your Myspace Portfolio, feature them on a blog of other website by using the "Embed" feature, track growth and stats of your mixes, and discover other similar mixes to keep you inspired.
Artist vs People on the new Myspace
Artist who are licensed to stream on Myspace will have an "Artist Page" and artist who create a Myspace account will be listed separately when searched under "People". This just makes a slight difference when it comes to sharing and streaming specific songs or stations.
Where did all your Myspace Photos and Playlist go?
When I first logged in to the new Myspace (it had been awhile) I noticed all my photos were gone, or not noticeable. I went to Photos and there were none except for my profile photo. After researching on how to retrieve all my photos, I found a useful Myspace forum on their website that contained great information on how to import your photos and playlist from back when you first did them. It could help you too if you are in need of help, but you will need to be logged in and go here to get the directions: https://www.askmyspace.com/t5/Q-A/Where-are-all-my-photos-amp-playlists/td-p/44165. Here is a print screen from the new Myspace to give you an idea of the screen it directs you to retrieve your photos:
Is the new Myspace right for you?
Well, do you like music (who does not right???) and do you like to be social online? If yes, Myspace is a great, advanced social network to be a part of. Although Myspace has a strong music emphasis, and say you're not a huge music person, I still encourage you to join Myspace or get back in to Myspace if you are a writer of some sort, a graphic designer, photographer, web developer, or whatever you do that may be related to the categories I listed above when searching for new connections. One thing I noticed on the new Myspace is that it is full of artist and creatives of all types, brought together by music, I think that's pretty cool. I think what drew me back in was the portfolio section, their easy layout and all the potential. Anywhere artist can get more exposure for their work is great!
Would you give the new Myspace a second chance, or try them out for the first time?