Are you wanting to get into YouTube yourself but have no idea how or where to start? Or maybe you are already making videos on YouTube yourself, but not sure if your optimizing them correctly for the web. I plan to cover all of this right here, right now! At the end of this post I hope to have you well on your way to creating a fully search engine optimized YouTube video.
First off, if you don't know already, YouTube is the top video-sharing site on the web where anyone can join to upload their own videos. You can use YouTube yourself as it relates to your website, blog, or any other purpose you have on the web whether you want to create makeup, design, sewing, and more tutorials, show off your dancing or singing skills, or just tell the world about your daily life experiences. The possibilities are endless within reason of course. Before getting started on YouTube yourself, I recommend reading through YouTube's Community Guidelines here.
How you can become a master of YouTube yourself…today:
Get an Idea
Whether you are going to fly by the seat of your pants, or thoroughly plan out your video point by point, prepare for it ahead of time before you hit record to save yourself from recording many sessions. If you need some inspiration, you can use Google Trends which is a helpful tool to provide insights into what users are searching for on YouTube. If you need any additional video ideas, you can also check out my recent post "20 Great YouTube Video Ideas".
Get your Recorder
Decide the best type of equipment you will use for this new video idea. You can use a standard camcorder, your mobile phone, standard camera with video recording options, a webcam, or if your computer/laptop has a built in recorder, then your set! Keep in mind whatever recording equipment you use, check how much space is available. Videos typically take a lot of storage space. You can also use a PowerPoint presentation as well and easily turn it into a video for YouTube.
Recording Tips When you Start Doing YouTube Yourself:
Short videos tend to get more views and comments on YouTube. If your video is not that short, be sure you are sticking straight to the point and you're not rambling. Try to keep your videos under ten minutes.
Add some fun personality or comedy to your video if narrating to keep viewers interested.
Have all your props needed ready. If the background may be blah or ugly, consider a nice backdrop or pretty sheet.
Consider using Closed-Captioning. This is not required, but uploading closed-caption files for all your videos can help optimization efforts.
Make sure your video is at least 480p quality.
Use one of the following video formats: .MOV, .MPEG4, .MP4, .AVI, .WMV, .MPEGPS, .FLV, .3GPP, or .WebM.
Video Clean-Up
This part is if you want to clean up your YouTube video by deleting takes, combining takes, etc. If you have software on your computer to do this, use it! However many people do not use video editing software, and will just upload your video right after they feel they recorded it perfectly. Nothing wrong with that at all, your choice. Just make sure no matter what that you review and make sure it is right to upload. Critique your video for YouTube yourself as if you were a regular viewer. Be sure there are no weird or embarrassing sounds or objects in the video, unless of course it's all a part of your video. YouTube also has basic video editing features right there where you upload your video in case you need to make any quick fixes.
Uploading Videos on YouTube Yourself
When it's time to upload, depending on your device, and where it's saved, you can either transfer the video to your computer from your phone or camcorder if you went that route. If you used your smartphone or iPad, with the YouTube app you can also upload straight from there. And of course if you used a webcam, it should already be on your computer. So basically locate the video, and upload it to YouTube by being logged in their App or by going to YouTube.com, make sure you are logged in there as well when you upload. You will need a YouTube account, which signup is easy, all you need is a gmail account.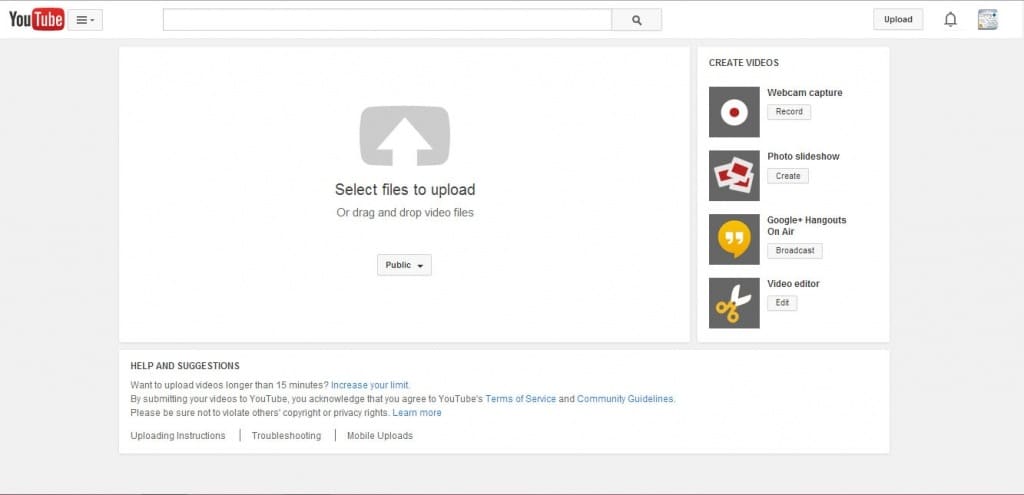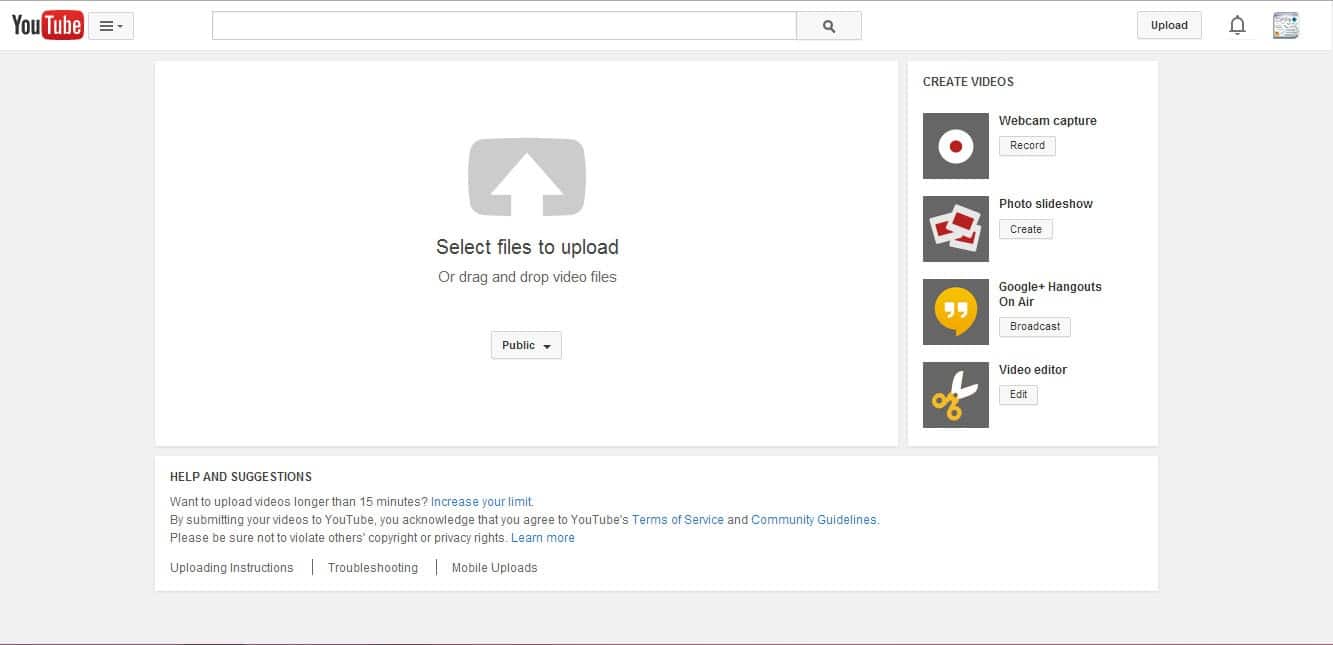 Now the fun part, you can make your video look professional on YouTube yourself!
Optimize your Video
Its very important to completely fill out all the necessary fields for your video when you are uploading your video. You need to know which keyword(s) you are going to use before you start filling out the fields listed below. Choose 1-2 keywords and also be sure to use these keywords in the title and description of your video. Here are their fields broken down piece by piece of how to fill them out correctly:
Title – Keep it short and straight to the point. Be sure to best fit your keyword(s) here.
Description – Should be about 300-400 words with the keyword(s) included again somewhere in between. Use keywords and phrases that are only relevant to your video, do not just drop random ones. Nothing drives me crazier than someone who stuffs their videos with keywords that have nothing to do with their video, but since it's trending they take it upon themselves to use it anyways. Use descriptive sentences as well to explain to your viewers what they can expect when watching your video. Be sure to use humor or interesting points to make them want to watch your video.
Tags – Use 10-30 tags making sure that you put your keywords first. Get your video out there more by labeling your video with tags related to your video.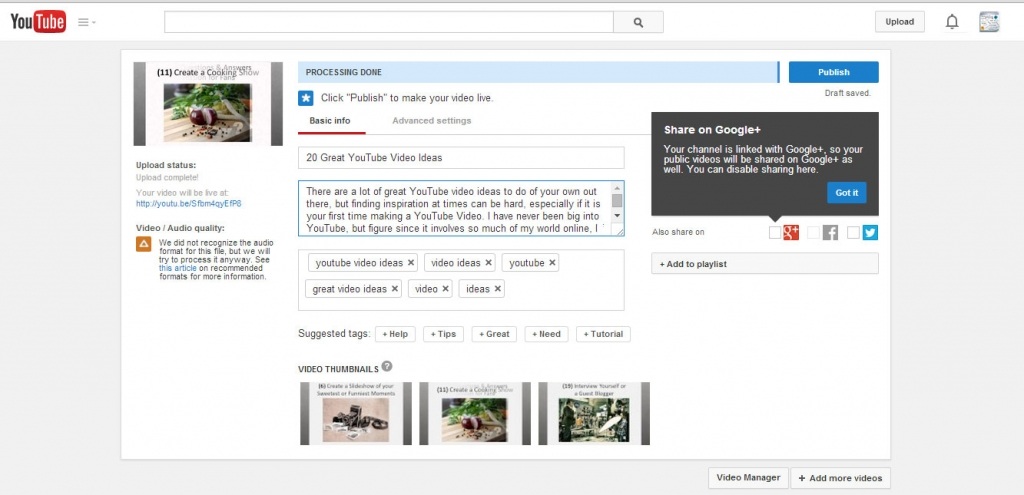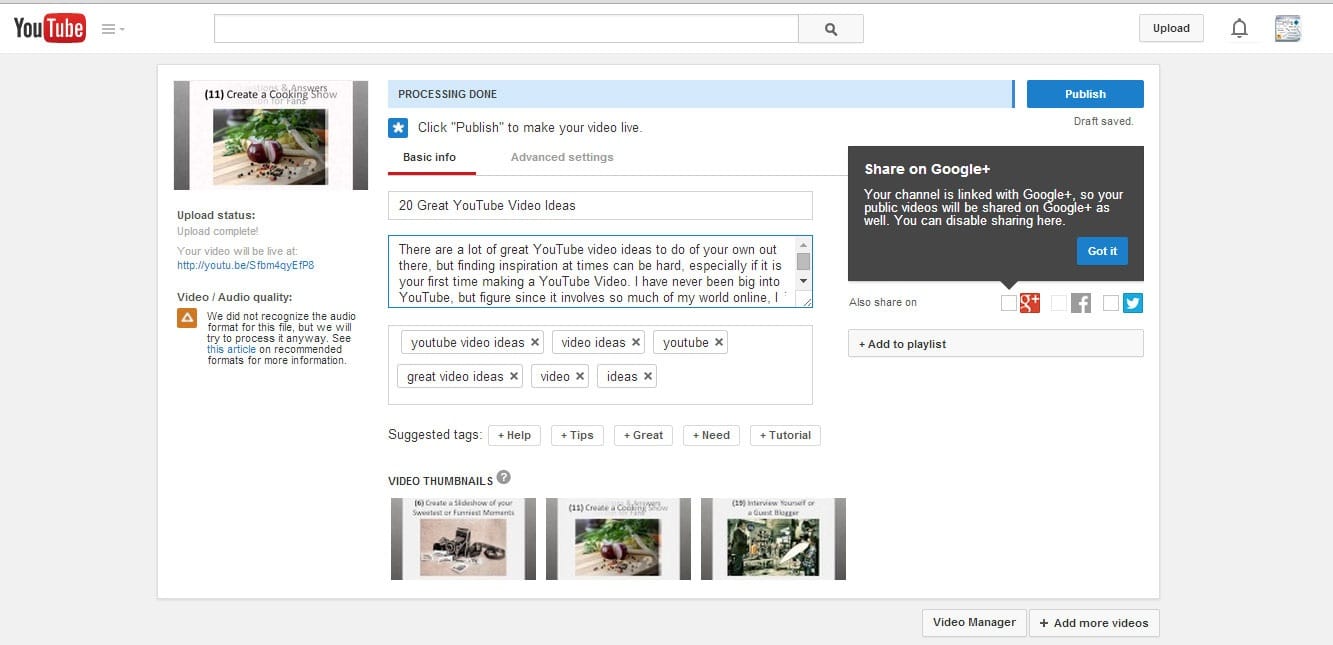 Watch your YouTube Analytics
The Analytics button is right under your selected YouTube video when logged in to your account so you can quickly access and monitor. Your traffic will not only come from YouTube, it's helpful to know what other websites or social networks all your other traffic is coming from. Plus it will tell you so much more about your videos in the backend.
Share your YouTube Video
Just like with a blog post, when you upload your video on YouTube yourself, start sharing it to all your social networks. You can connect and share to popular social networks such as Google +, Facebook, and Twitter. If you want to email or share anywhere else, you can copy the URL YouTube provides for your video as well. Constantly remind people on your other social networks to find your YouTube channel.
Connect with other YouTube-rs
Another great way to spread the word about your video and get noticed more on YouTube is to find popular videos that interest you and leave comments. Find other users you can relate to and have interest in.
Don't give up
Fact, YouTube is full of both nice and nasty users, and everyone in between. You will find that with time you will get some loyal viewers that will leave comments of encouragement on your videos, and some hater viewers that will leave random, pointless, or just plain mean comments on your video. It happens regularly, but the most important thing is to never get sucked in to their rudeness. Don't ever let that stop you from making videos on YouTube yourself. If it ends up bothering you too much, you can also disable comments for video.
When I first started to build my whole online presence years ago between social networking, blog sites, websites, etc., I've pretty much steered clear of YouTube since the start. Not because I did not like it, but because I've always been afraid of recording myself and putting it out there for millions of people to see. Well now I am determined to build a YouTube presence myself one step at a time. I got the whole recording a video and uploading down, but with research, I realized how important it is to optimize videos on YouTube yourself for the web, just as if you would when you are doing a blog post.
Do you use YouTube yourself? How is your channel doing on YouTube?