Have you ever opened a word document and inserted clip art, placed some text and maybe a picture to make a quick flyer? A simple project such as this can technically be considered graphic design. Or maybe you make business cards or logos with more advanced software such as Photoshop or Illustrator. As defined by Wikipedia, graphic design is the art of communication, stylizing, or problem solving through the use of type, space, or image so no matter what job, small or large, if it falls under the scope as defined, you are a graphic designer in your own way and can make a decent living off of it.
Graphic design freelance work can be for graphic designers of all levels from beginner or intermediate to advance. Typically the software used are Adobe Illustrator, Photoshop, Corel Draw, CAD, and even Microsoft Word, PowerPoint, Publisher, etc. to create graphic design masterpieces. If graphic design is something you are truly passionate about and enjoy doing, there are many ways to earn money for your work.
Make money with graphic design freelance work these different ways:
Sell you graphic design work in marketplaces such as Shutterstock or iStockPhoto.
There is always an overwhelming demand for the need of stock graphic design freelance work whether it be for photos, illustrations, vectors, or even videos. Many businesses do not have their own graphic designer, or even if they do, in many situations their graphic designer will look to marketplaces such as Shutterstock, iStockPhoto, Fotolila, or Dreamstime to purchase specific artwork to create brochures, infographics for presentations, flyers, and more.
Create your own custom designs to be featured on apparel or specialty items and sell them through an online retailer.
You don't have to front the money to keep your own products stocked or to run an online store. Websites such as the popular Zazzle and Cafepress give you a free option to simply open up your own online store through them where you can upload your designs to show up on t-shirts, canvas wall art, coffee mugs, handbags, cell phone cases, and much much more you decide to place them on. Plus with these online retailers, you can usually become an affiliate easily too if you see other graphic design work that inspires you that you wish to promote while making money at the same time if a user purchases that item. Read my blog post on Zazzle vs Cafepress to see which one may be right for you if you are interested in going this route. See below for a Zazzle product promotion example I made.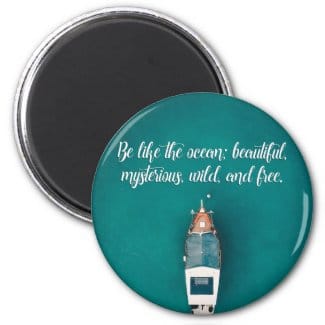 Be Like the Ocean Magnet
by WebJess
Make custom magnets and more at Zazzle

Display graphic design work on free download websites.
Depending on your graphic design freelance work niche, whether you create pieces such as vectors, icons, brushes, gradients, or clipart, you can display them on websites such as Vecteezy, Brusheezy, AllFreeDownload, or FreePik for users to download for free. You obviously will not get paid for it, but it's a great way to display our skill with your info so users have another way to become interested in your work, and possibly lead them to your website to purchase or request your design services.
Display and sell graphic design freelance work on your own website or blog.
Having your very own website where you can display your portfolio and sell graphic design freelance work can definitely come in handy whether it's digital or in-stock physical graphic design work, if you have the money to set one up, or you can always pick a free blog platform instead. If you do not have your own website, you can sell your own creations on websites like Etsy (perfect if you design your own posters, canvas artwork, cards, etc., has to fall under their categories). You can also use websites like DeviantArt to display your art, this is just another great community that shows off amazing artwork from different artist.
If you decide to not put a price on your digital art and display it on your website, you can always take donations as well, especially if your website or blog receives lots of traffic. Maybe downloads of your graphic design work for free is just an incentive to your user, and you decide to make your money through affiliate marketing on your blog or website. So many choices, pick the one that's right for you.
Constructive criticism is not a bad thing, your art is seen differently in the client's eyes.
Post/market your graphic design freelance work services.
Utilize websites such as Craigslist, Freelance, eLance, microlancer, or peopleperhour to post your services for graphic design. Depending on your graphic design niche, business look online every day for someone to design their website sliders (I am recently learning how popular this has become with slides being integrated in webdesign every day), images for their website or brochures, logo design, business cards, the list is endless. Be sure when working with different business online that you research and do your background work on them as well. Sometimes deals over the web can be too good to be true! Also keep an eye out for jobs that may interest you and respond immediately when you see them, they get filled quickly.
Find/post micro graphic design freelance work.
Using websites like Fiverr or Zaarly with micro graphic design freelance work posted will not give you a whole lot of cash at once, but if you're looking to make quick cash that can add up, these work for that. Plus it's another way to get your name out there in another online community. Remember great work equals repeat business. You can also download mobile apps such as Task Rabbit which is also known to post micro graphic design freelance work.
Offer to make social media graphics for businesses.
Some businesses do not have the time to worry about sizing and templates for the Facebook or Google + cover photo, or the Twitter header, or the Pinterest profile picture. Offer one rate to businesses to create graphics for a specific 3 or 5 main social networks, or whatever you decide. If you have the graphic design knowledge to do this, all you need is the sizing for each (you can find this all over the web), and social skills to reach out to businesses to offer your services.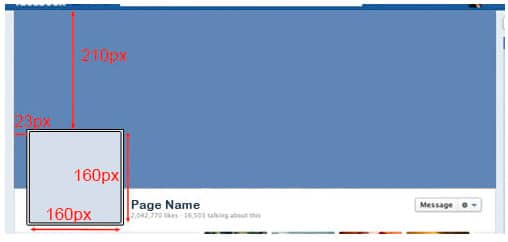 Participate in your favorite online communities.
How else are people supposed to know who you are or what you do? Almost every day I see people post some kind of graphic design freelance work help needed on one of my social networks. One professional social network that pops up in my mind for this is LinkedIn. Because I put graphic design as one of my skills and opt in to their occasional newsletter, here and there I get a list of companies hiring for graphic design services and in my feed I see professionals reaching out for graphic design services needed all the time. If you do not have a LinkedIn account, may be worth creating one.
Keep an eye out and respond to those people, let them know you are a human being, someone they can relate to, and be confident in letting them know you are a graphic designer who can help (of course be sure you have the expertise they are looking for before accepting the job).
Remain confident in your graphic design freelance work.
Show off your graphic design freelance work on YouTube.
Even making a short simple video that shows all the different work and services you offer is another great way for businesses or individuals to find and hire you. YouTube is a very large community with many members who visit each day. You can then turn around and embed the video on your website or blog, another added visual many users enjoy.
Enter contest for graphic design work.
Each year, month, or day there are many websites looking for graphic design freelance workers to enter their contest with specific criteria they have set. Win the contest and that means money to you plus it gives you a great spotlight as a graphic designer. You can find contest to enter on websites such as Threadless, 99 Designs, or Mycroburst.
Write your own graphic design tutorials to teach others.
This is what I hope to do one day since I have notebooks full of how-to and notes so I do not forget! You can write quality content tutorials on your blog or website, another great way to drive traffic. If you are really good, you can find other websites such as psd.tutsplus, vector.tutsplus, or designinstruct to write tutorials for and make money that way as well.
Do you do graphic design freelance work, and if so, how do you make money doing it. I would love to add any other great ways to make money with graphic design, if I missed any, please let me know!