You've finally made the choice to start making your own custom designs to sell online in market places such as Zazzle who do the print on demand so you do not have to worry about purchasing and keeping your own stock. You may have a few designs, or ideas already to put on their product templates, or even none at all, but one of the ways to be successful on Zazzle is to continue to come up with new and fresh custom designs, and lots of them!
Here are some inspirational ideas to come up with custom designs of your own to sell on Zazzle:
Take photos. This could be a great goal for yourself if you ever wanted to do photography. Get out, take pictures of your travels, gourmet meals you cooked or are served, events attended, etc. Stick with it and you will get great shots that can be used on post cards, posters, greeting cards, or any other of the hundreds of products Zazzle offers. Keep in mind though under Zazzle's terms of use they may use your custom designs that you upload in their advertisements, promotions, and basically anywhere else they want to on the web. So if you take a photo of your children, your wedding day, or whatever personal event, once you upload it, and if it becomes a big hit it could show up in advertisements to promote one of their products.
Doodle, color, or paint. If you have this artistic ability, why not make it into custom designs for t-shirts, mousepads, postcards, or whatever other products Zazzle allows you to print on. You can scan in your design, open it in an editor such as Photoshop or a free online photo editor if you do not have photo editing software on your computer to clean it up.
Create custom designs directly in Zazzle. This works great if you have a cute saying or quote that Zazzle does not already have. I've seen quotes or sayings do really well for just being wording on a black background of a sticker or wall art. You don't even have to upload anything, you can type right on the product canvas, customize it with any of Zazzle's fonts, color the text, change the text size, and even change the color of the canvas background.
Utilize photos under The Public Domain. A lot of custom designs found online using free stock photos come from The Public Domain because they are basically no longer protected by property laws such as trademark, copyright, etc. You can read more about The Public Domain here on Wikipedia.org or Standford.edu. Zazzle states under their Nonexclusive License Agreement under the Representation section that when you upload your custom designs, "You are the owner of the Design or that the Design is in the public domain;" so many zazzlers love to use The Public Domain images. This was a great disclaimer I found on one Zazzle shop that uses The Public Domain images for their custom designs: "To the best of my knowledge these images are in public domain and believed to be free to use without restriction in the US. Please contact me if you discover that any of these images are not in Public Domain." So, once you find a public domain image, it's a great idea to first browse and search through Zazzle to make sure another zazzler has not already used that same image in one of their designs.
Purchase or use free stock photos. If you decide to go this route, there is a lot of responsibility on your part to make sure you are following the rules when it comes to using other people's photographs. Be sure to read the fine print, even though the author or license attached to the stock photo says "free for commercial use", however it could still have restrictions when it comes to print on demand. I've seen some Zazzle ProSellers that have incorporated stock photos into their custom designs list the photo links and their licenses in their shop, or in the product description. That's a great way to be as transparent as possible, and not to have to worry about being questioned by Zazzle or receive copyright complaints to avoid your custom designs being removed, or not even published. You have to make sure you can prove those rights of use! If you find a stock photo you really want to use, but are unclear about the specifics for use, contact the author of the photo directly. Let them know what and how exactly you want to use the photo, and wait for them to respond with that specific permission of how exactly you can use that photo. If you can't get ahold of the author of the photo, then don't use it.
Browse and search through Zazzle. This is one of my favorite ways to come up with inspiration for custom designs. No I do not mean copy someone else's custom design ideas, I am talking about creating custom designs related to a niche that is popular and selling. You can always check out Zazzle's Hottest Products and Top Searches categories under the "Shop" menu item (screen shot below). Also use the browse and search to keep your ideas unique by making sure someone else has not already created your same custom designs ideas. Zazzle does need to approve your products before they actually post it, but sometimes they miss duplicate designs from another Zazzler. You don't want your product to be posted, then later finding out a Zazzler complained that your copied their design which will result in Zazzle removing your product.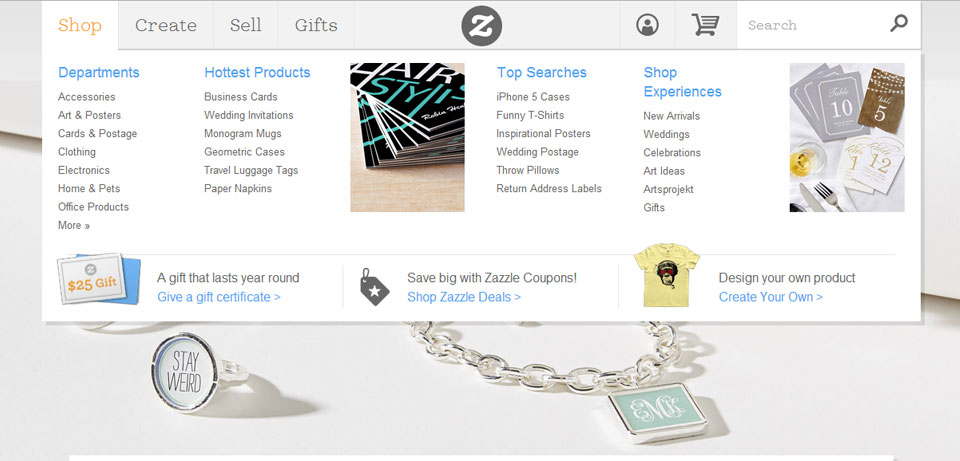 Utilize other free graphic download sites. Depending on what computer software you have on your computer, this may not be for everyone, but there are sites such as WeGraphics.net, that allow you to download Photoshop brushes, icons, textures, Illustrator vectors, and more for free, with the option to upgrade as well. You can easily make a great piece of art by utilizing different graphic design elements. I use WeGraphics.net as an example because I've personally contacted them for permission when it comes to using their free downloads for print on demand retailers such as Zazzle. I was basically told that if you are a WeGraphics.net member, no attribution is required when using their free graphic downloads. WeGraphics.net does allow you to use their graphics as a part of your greater design work to sell on Zazzle, which basically means it can only be a small portion of the rest of your larger custom design you come up with on your own. So don't download a vector pack and slap it on a t-shirt template to sell as is, instead break it down and use these vectors to compliment your own custom designs. *This is a great example of what I was talking about earlier. Always read the fine print for terms of use, if it is unclear, then contact the website or author directly. All websites terms of use are different from one another, and they come with their own rules.
If you are looking for other print on demand retailers out there, I've listed a few others in my post "Zazzle vs Cafepress". There are a few others listed, I talk about Zazzle alot because they are my favorite of the print on demand retailer. Remember to keep coming up with custom designs, reach your first 10, then 100, then 1,000, and see if you can make it to 10,000! Hey, it can happen right?
Have a Zazzle shop? Please leave a comment with a link to it and tell me how you come up with inspiration for your custom designs on Zazzle or other print on demand retailers online.