PLEASE NOTE IBOTTA'S REFERRAL PROGRAM HAS CHANGED. PLEASE READ MY UPDATED BLOG POST HERE FOR MORE INFO!
You don't have to be a hard core coupon person to be successful with the ibotta app. My ibotta review will shine light on easy ways you can make money with this mobile app. I just recently reviewed a money making mobile app called Receipt Hog, so I figure what the heck, I will do an ibotta review as well which is another great money making mobile app I've grown to love. If you do the shopping, and don't mind taking 3 minutes of your time to scan products, and take a picture of the receipt, then you can totally be an ibotta user no problem!
Real quick, I wanted to add this screen shot for my ibotta review to display my activity. As you can see, I've already earned $36 to date with this mobile app for not doing a whole lot: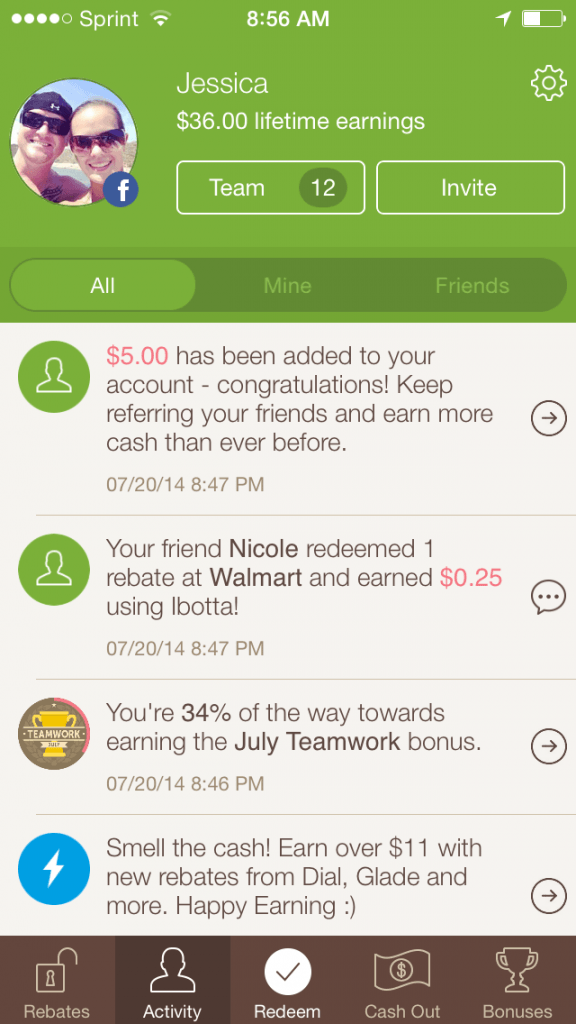 One thing I do have to add right off the bat in my ibotta review is if you are a coupon person, essentially you can end up getting a product for free, or even make money off of it. I was so proud of myself, one day I bought 4 boxes of cereal at Fry's, received a free gallon of milk, came home, redeemed the milk rebate on ibotta, and basically turned that milk into a $0.25 money maker. Hey, better than paying for it right? ibotta does not care if you got that product for free at the store, or already used a coupon on it. If you can prove you have that rebate on the receipt, and it matches the product, that's all you need to redeem on ibotta.
What is ibotta?
In case you don't know yet, ibotta is an app you can download for free from the Apple or Google Play (Android) store. Ibotta offers rebates from the top grocery stores across the nation (over 10,000 stores in counting), apparel stores, electronics, restaurants, special occasions such as florist, photo and prints, pet, home improvement stores, babies and kids, plus you can even earn rebates from watching movies. It's easy to choose your store from the list of rebates available to see what you can redeem. They offer rebates you can redeem from $0.25 all the way up to $10 for some even.
Now let's get to the most important part of this ibotta review, how you can make money with this mobile app!
$2 Signup Bonus
With ibotta's welcome program, just for signing up, you'll receive $2 for redeeming an offer within 10 days of signing up. With their large selection of rebates available, this should be no problem.
Redeeming Rebates
Check every day what rebates are available at the stores you plan on going to or the stores you've already shopped at. Some people are really good at redeeming multiple rebates from just one receipt, but I am not a big coupon person so I will usually only do the milk, bread, or other easy rebates available that I always buy anyways. Keep in mind the receipt you download needs to be dated within one week you upload it for the rebate.
Since this is an ibotta review, I wanted to include a few simple steps of how to redeem a rebate:
Navigate to the store you shop or shopped at.
Find the product you bought or are going to buy.
Check the product by scanning the barcode. You can even do this while you are at the store. Ibotta will tell you if it matches. Once it confirms that the product matches with theirs, it will store that product you scanned in already so you won't have to scan it again.
Complete the task it gives you. Products may have different tasks for each such as Taking a Poll, Watching a Video, Learning a Fact, Sharing the product on a social network, and more. The tasks are easy and pretty self-explanatory.
Once you've checked out at the store, and have a receipt, hit the Redeem to walk through the steps to snap a picture of the receipt.
Submit to ibotta once steps are complete. ibotta will let you know when the rebate(s) requested are approved, they are usually pretty quick and respond within 24 hours.
Keep in mind when you redeem a rebate, it will disappear. Some of those products you redeem may come back, and some stay gone forever. Ibotta is really good at updating and adding new rebates, usually daily now, so there is always opportunity to continue redeeming popular products.
Referral Program
One of the main points I want to get across in my ibotta review is how amazing their referral program is. Recently they changed their referral program to where they will give you $5, yes $5 if you refer someone and they redeem a rebate. They could easily redeem milk for $0.25, and you would still get that $5! This new ibotta referral program is only being offered for a limited time, but it does not say when it will stop. So sign up, and refer people like crazy so you can take advantage of their referral program now.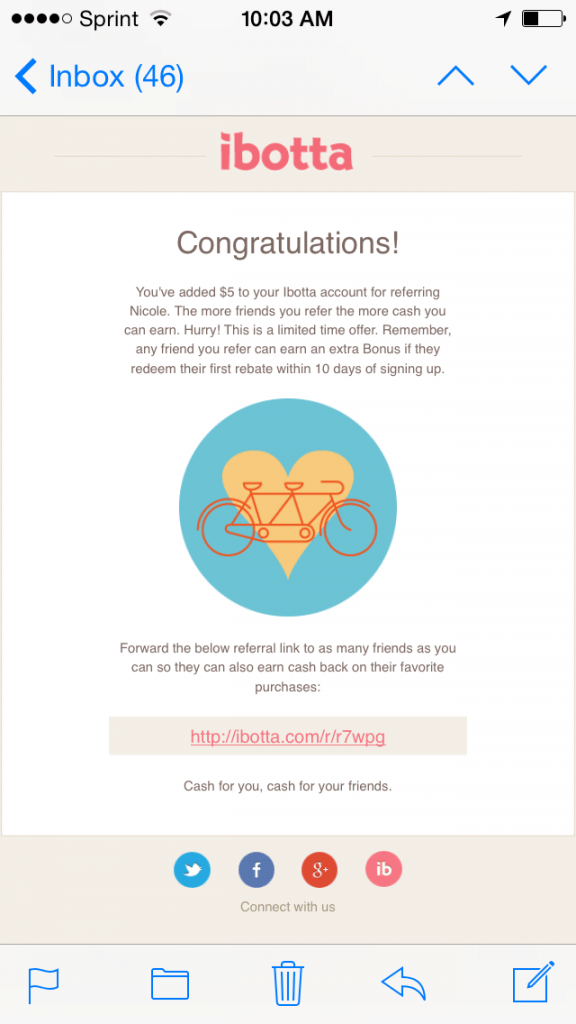 ibotta Bonuses
This is another great way to earn money with ibotta on top of the rebates. They have tons of bonuses you can complete when you buy a certain groups of products, refer friends, cash outs, team work, among many others. Some are just fun challenges, but most bonuses if completed, can earn you extra money. Here is a screen shot of a bonus example, I am already 98% at completing, yay!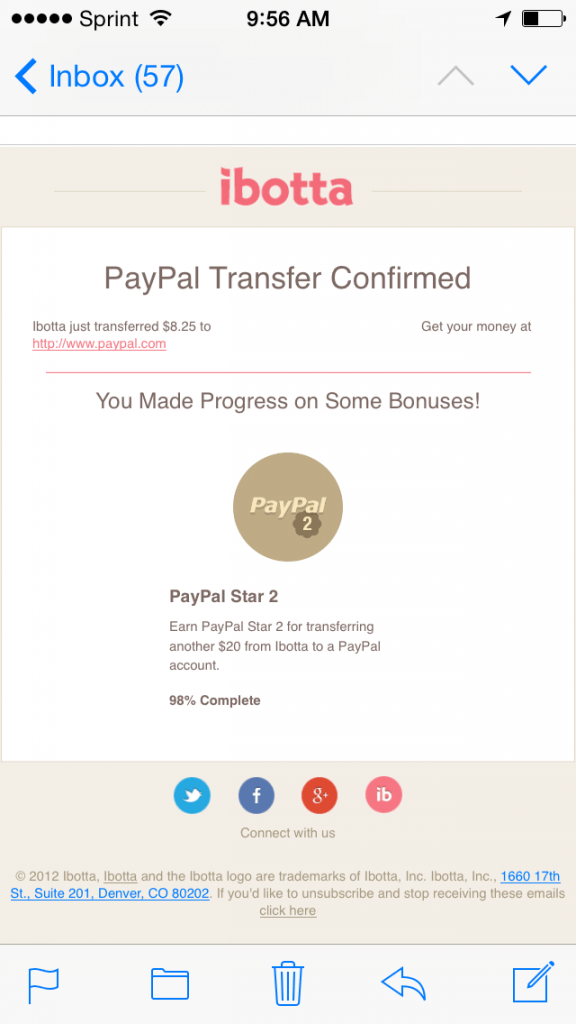 Cashing Out
Once you reach ibotta's minimum $5 cash out, you can cash out with a Paypal or Vemmo account. You can also earn gift cards at Whole Foods, Starbucks, Regal, or iTunes gift cards if you decide to go that route instead. I use Paypal when I cash out with ibotta and it's immediate, no waiting period before it deposits in my Paypal account.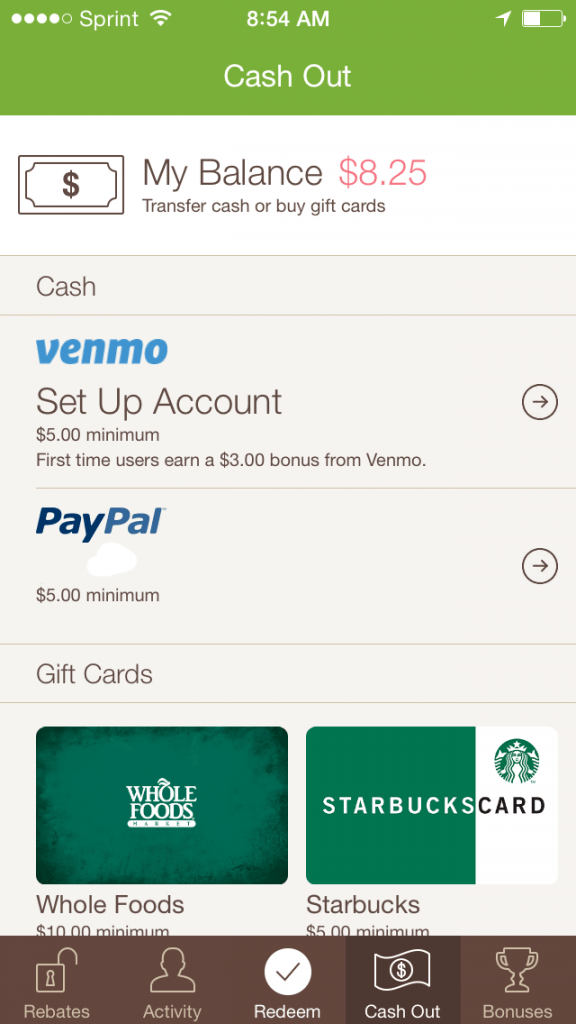 What do you think of this ibotta review, easy breezy or what?
Like I said if you do any of the shopping, and have an Android or Apple phone, why not use ibotta. Even if you redeem only the bare necessities ibotta may offer, it's still worth it to earn some extra cash. Plus their referral program is awesome so take advantage of that while it's still available.
I hope my ibotta review shed some light as to your decision to download and use their app. If you would like to signup, here is my referral link you are more than welcome to use to sign up: http://ibotta.com/r/r7wpg. Thank you for checking out my ibotta review. If you have anything to add to this ibotta review, please comment below.