The ibotta referral program keeps getting better and better, I am truly impressed from where it started from, to where the app is now. Right now they are back at $5 for every person you refer. How is works is you get $5 for each friend who uses your code to sign up and redeems a rebate. You're probably saying yes I know that already, but you can refer as many people as you want! Even better, iBotta is the quickest too when it comes to getting you paid.
**This post contains affiliate links & I will be compensated if you make a purchase after clicking through my links.
iBotta Referral Program – Get $5 for Each Referral
I would say the iBotta Referral Program is one of the best referral programs out there when it comes to using couponing apps. Keep in mind, if you use my iBotta referral code (r7wpg), you'll get $10 just for signing up! I recently reviewed the iBotta app awhile ago here, check it out for more specific info on the app. In this post, I am going to be talking about the updates, and how I've done with the app, but any in depth background info, definitely check out my post here.
I would like to brag, just a little bit on how I've done with iBotta, but most importantly, I would like to thank all my blog supporters! I have had lots of success with the iBotta app because of my blog readers. So again, I THANK YOU for your support!!! And for using my iBotta referral code (r7wpg), THANK YOU!
Sure, I will redeem for milk, bread, for $0.50 here and there, but most of the money money I earned was from referrals. If you look at the blog I wrote awhile back on iBotta, I was at $36. As you can see below, I am now at $218.90, not bad at all for little effort I put in to it. iBotta will email you when someone signs up using your code, and let you know when you've earned a referral, pretty exciting!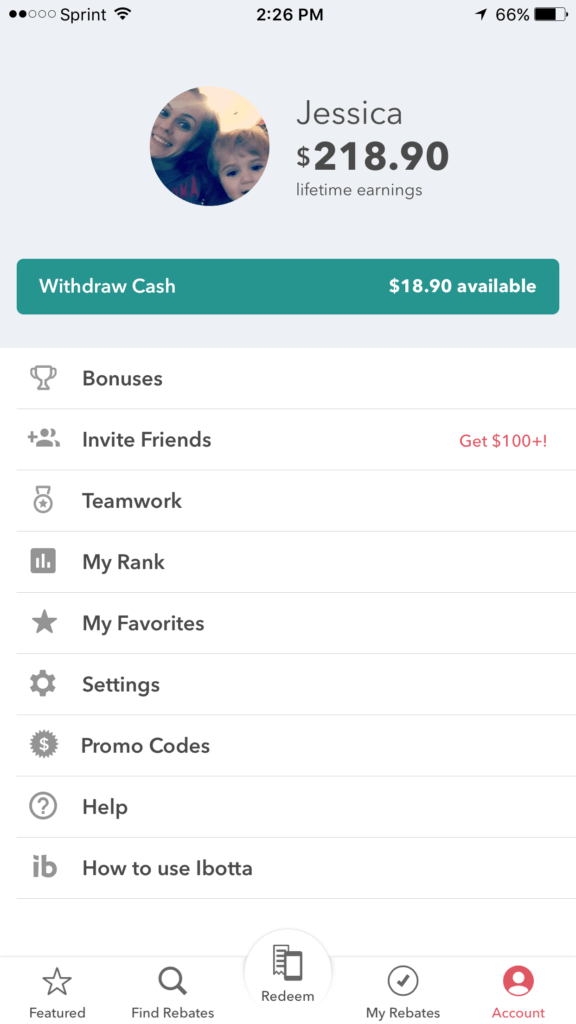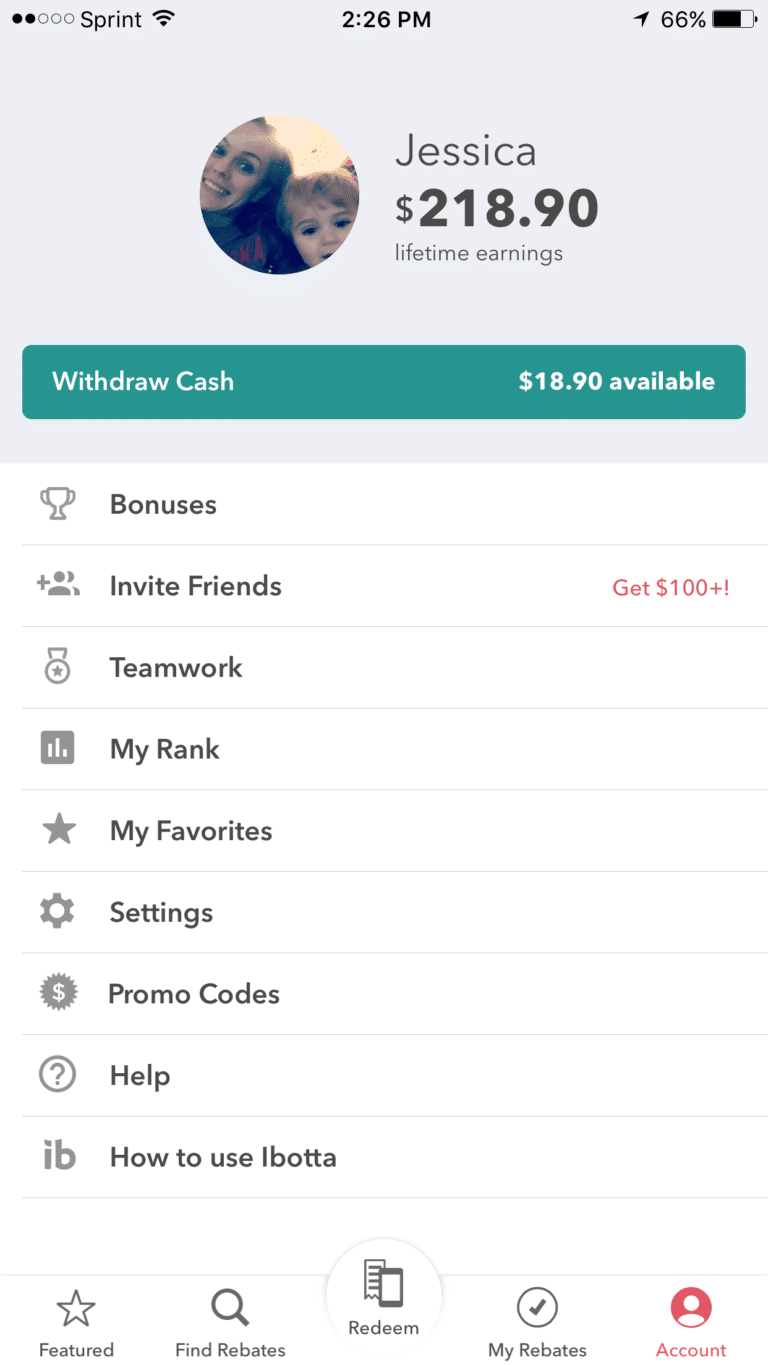 Refer and Encourage Your Friend to Redeem!
Once you get your friend/referral to sign up, encourage them to redeem right away! Even if it's a gallon of milk for $0.50, that's all you need to get the iBotta referral. And trust me, it adds up quick, as you can see it has for me. They also have a rebate where all you literally need is a receipt from a participating store, you could have bought anything. Plus they have rewards you can earn if you buy a certain group of items or a specific category. So not only will you earn the rebate for each item, but you have an opportunity to earn an extra reward as well.
Get Paid Quick
iBotta is very quick to process your payment once you reach their $20 threshold (was $10 previously). I always use the Paypal cash out, it instantly deposits in your Paypal account. You can also now redeem for Vemmo (never used but should be similar to Paypal), Best Buy, Amazon, Starbucks, Walmart, Express, Aeropastale, Regal, iTunes, etc. gift cards in $20 increments. There are no long wait periods, once you've reached the threshold, they pay you when you decide you want to cash out. If I do not choose Paypal, I will choose Amazon. I will usually save and use it during the holidays. Anyways, if you choose a gift card option, iBotta will send you a code to redeem online. Once you put in for a redemption, it emails you right away on how to redeem or will give you the code.
Nothing to loose, remember the iBotta app is FREE to install and use!
No doubt about it, the iBotta Referral Program is so worth installing and using the app. Don't think it's only for couponers, I am indeed not a couponer, I wish I was, but I'm not. If you do any kind of shopping, even if you buy milk or bread every once in awhile, it will payoff and add up. What's wrong with getting money back on grocery purchases you've already made. No planning ahead necessary, unless of course you are a couponer. Most the money you make back will probably be from the iBotta Referral Program with their great incentives. You can install the app with an iPhone or Android device by downloading it here from their site.
iBotta Referral Program – SIGN UP NOW!
Bottom line, you can make money quick with the iBotta referral program by either signing up and referring people, or redeeming. as simple as that. iBotta makes it easy to share your referral link by having a quick share for Twitter, Facebook, or email. I welcome and encourage you to sign up and start making money with the iBotta referral program, if you use my referral code: r7wpg, you will get $10 just for signing up. Even if it's not my code, use a code so you can get yourself $10 just for signing up and redeeming a rebate.
Get people to consistently sign up under you by sharing your status of how you are doing with iBotta. Meaning if you start to make money with the iBotta Referral program, let people know that. When they see that you are making money, they'll want in on it too. Plus, who does not want to get some money back on their grocery bill. I check iBotta after every time I go to the grocery store and find out the beer I just bought (seriously happened recently) is worth a $3 rebate on iBotta, yay!
Really nothing to lose with this app, and potential to gain as much money as you like. I've see iBotta change their referral program through the years, and right now it is at the best it's been. Take advantage of their awesome referral program by signing up now.