People join Instagram everyday, often wondering how they collect pictures to post on Instagram? They want the followers, but don't know how to get them if they have no pictures to post on Instagram. Instagram is very unique in its own way and really wants you to upload your own photos. Well, what if you have no photos, which a lot of people do not, how can we get people to follow. Let's face it, many social networkers get their content from other websites, where it has always been easy fore them to share to Facebook, Twitter, Google Plus, Pinterest, and more with a simply click of the mouse and login info.
Keep in mind, yes Instagram lets you log in from a computer, but you can only view your photo stream of who you follow and your profile, you can like or comment on any of their photos, but you can't post from there. Now that's what makes Instagram unique from all the other social networks. You have to post from an iOS or Android mobile device, where you can also download Instagram, for FREE of course.
Well don't let the dilemma of having no pictures to post on Instagram stop you from being on their network, unless of course you do not have an iOS or Android mobile device. Stay calm, there are resources and apps out there to help you get pictures to post on Instagram.
5 iOS and Android Apps to get Pictures to Post on Instagram
Instaquote. Great quotes always do well across all the social networks. Who doesn't want to occasionally come across an inspirational or funny quote to highlight their day. Now I'm not saying only post quotes, unless that's your industry, but if not, it could get a little boring. Post to Instagram maybe once or twice a day with quotes, keep them interesting and be sure to incorporate other photos into your stream besides quotes. Find your favorite quote of the day, give credit, customize, and post to Instagram.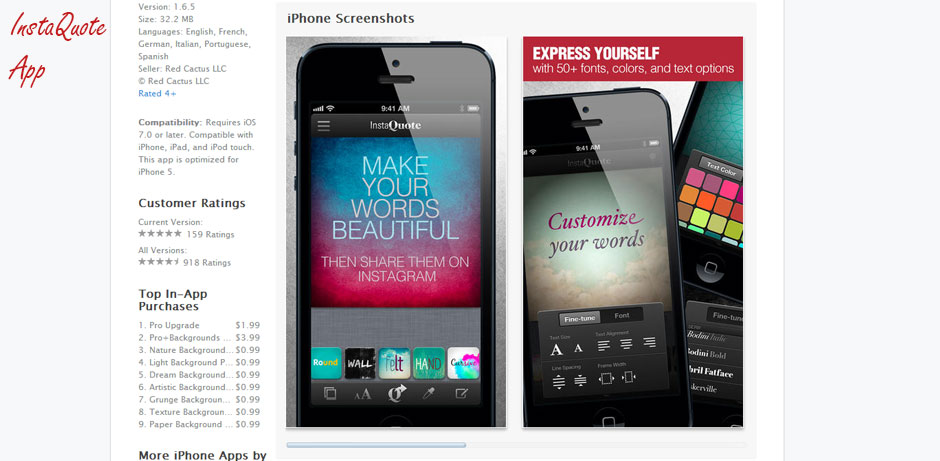 Repost for Instagram. I thought it was kind of weird that Instagram did not have a feature like Twitter (retweet), Facebook (share), Google Plus (share), etc. where you can repost other user's content. Well this is the perfect app to do that! Download the app for iOS or Android device, and login with your Instagram account. Once you authorize the connection, your stream will show up, start browsing until you find something you want to repost. Choose where you want the credit (the user whose content you are reposting) to show up, whether it be bottom, top, left, or right. Then you can repost to Instagram where you can apply a filter and add a description before finally posting.
Textgram – Texting with Instagram. Write whatever text you want on their canvas', add a frame, sticker, or customize the font and color, and then post to Instagram. It even allows you to send/share to not only Instagram, but also to Tumblr, InstaQuote (App mentioned above), and Flipboard.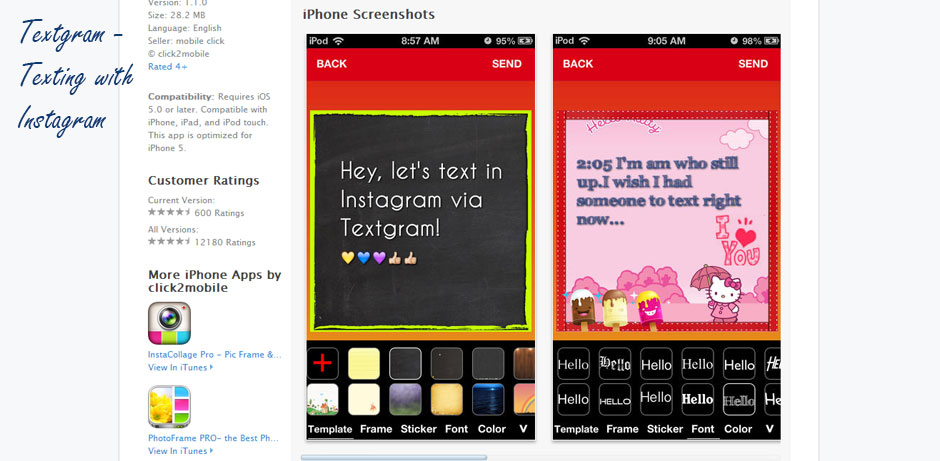 Textgram by Codeadore. Very similar to the Textgram (but not to be confused with) but it gives you all different backgrounds, templates, fonts, stickers, text effects, and frames. Once finished you can post on Instagram.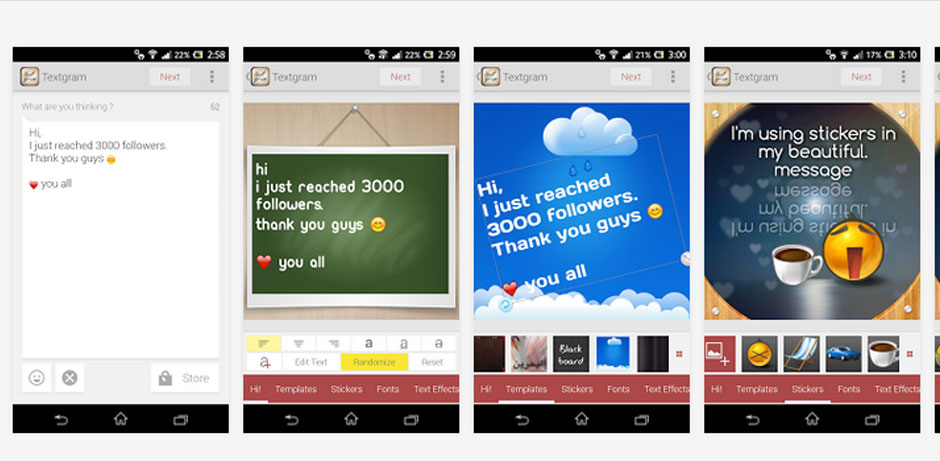 InstaEffect FX. Ok, I have to admit, at first when I used this app, it was a little confusing to work with, but play around with it and you'll figure it out. This is a neat app because you can take a picture of your hand, or any photo you have available, and apply these cool filters to them to make them look like a piece of art, who new! Once finished, you can then not only upload to Instagram, but also to Facebook, Twitter, Flickr, Tumblr, and more.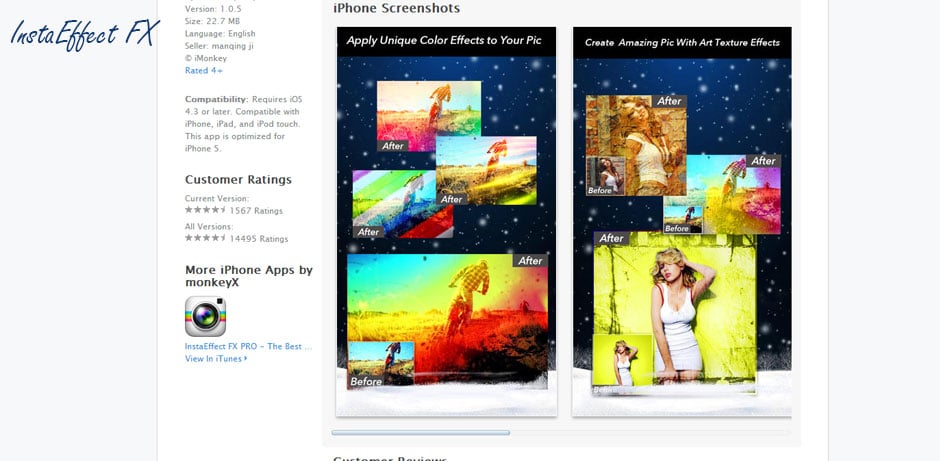 Other Ideas to get Pictures to Post on Instagram
Take pictures everywhere you go. Come across a funny sign, post it with a funny saying or questions to guess what it means. Take a picture of any fancy or yummy food you may order at a restaurant. Make sure it's appealing, have your followers guess what the food is, or what restaurant it is from if a chain. Going on a trip, take a picture of a beautiful landscape or an old building, street even. With Instagram's filters, you can dress your images up without being a professional photographer/editor.
Have customers or followers submit their photos. This is always a big hit; people love that little stardom exposure. Depending on your industry, or purpose on Instagram, decide what to have people submit pictures to post on Instagram. If you are into fashion, have them submit themselves with their favorite outfit on. If for travel, have people send photos of their favorite destination they've visited. You can have them take a picture of their office space, their desk view, their cute pet, anything you can think of, have fun with it. Be clear and let your followers/customers know you are going to use their pictures to post on Instagram.
Dig up your old photos and send/save to mobile device. If you're like most people, you have shoe boxes or albums full of old photos. You'd be surprised what you come up with if you search through them. It could be quite the process, but you could scan, or if digital copy, great, then send or save to your mobile device. I'm sure you could come up with something, dress it up, and use the pictures to post on Instagram.
Save a photo from the web. When you do this, be sure to credit where you get the photo from when you post to Instagram, and you should always ask permission from whoever has rights to the photo to post to your Instagram as well. I'm sure the author would love the credit anyways so if you play by the rules, you have a really great chance to get pictures to post on Instagram this way.
All the above resources are FREE to use to get pictures to post on Instagram, but with most, there is always the option to purchase for the extras, but again, not necessary. I've used all the above free apps and resources to get pictures to post on Instagram and like the variety I have to work with all together. I feel confident all these options are a great start when it comes to collecting pictures to post on Instagram. Remember, just have fun with it! For other tips on how to succeed on Instagram and other top social networks, check out my post here.