Quality content is a must for your website or blog, but sometimes there is not enough time in a day to create it. Maybe it's time to hire a freelance writer to do it for you. I can't express enough throughout my articles how important quality content is for your blog, website, social media and anything business related in general if you ever want to rank for certain key terms online.
So when you have no time to write your articles or blog posts, and are in a position to hire a freelance writer, I strongly recommend doing so. Check out my list of where you can go to find and hire a freelance writer.
Where to Find a Freelance Writer: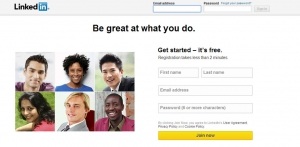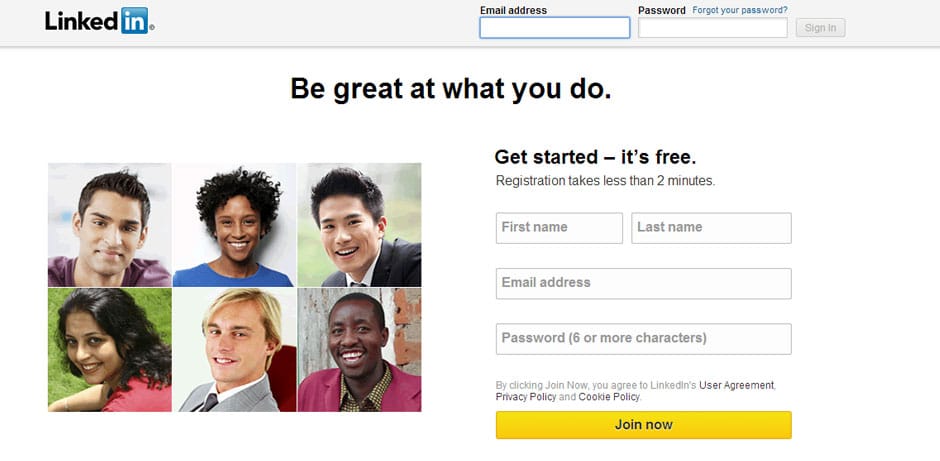 LinkedIn. Join the groups centered on journalism, self-published authors, online writers, etc. and find people who are truly passionate there who can write. In fact, you can do this with other top social networks, it they have some sort of writing group, join it, start networking, and putting the word out to others that you can looking to hire a freelance writer.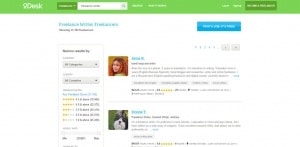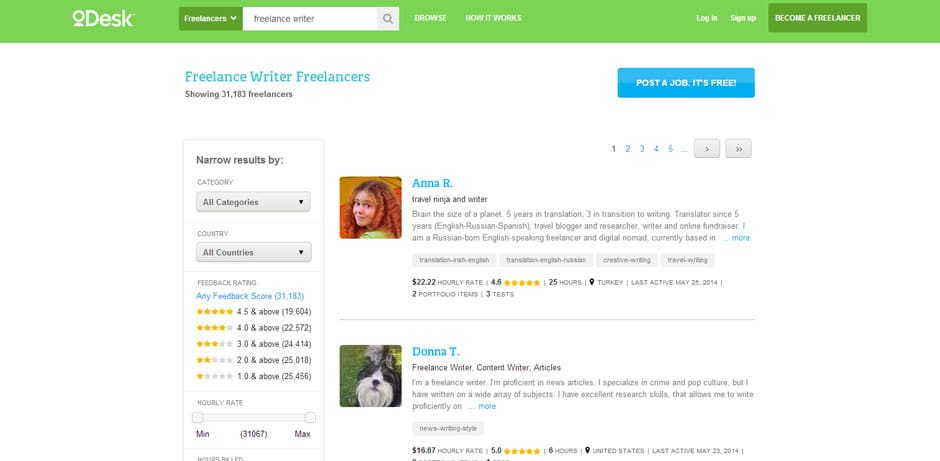 Odesk. You can easily search out the freelance writers by using oDesk's search for them to pop up. From there you can check out star ratings, feedback, hourly rates, portfolio, and more. Or if you choose to just post a job instead of the hassle of searching through, it's free.
ProBlogger. Not only a well-established blog that helps bloggers all over the web add different streams of income to their blogs, but you can also post a job on ProBlogger's Job Board for $50 for 30 days. Simply create a job posting with a title, description of the freelance writing job, and how to apply.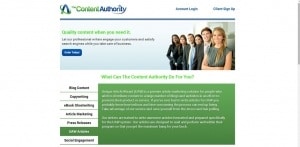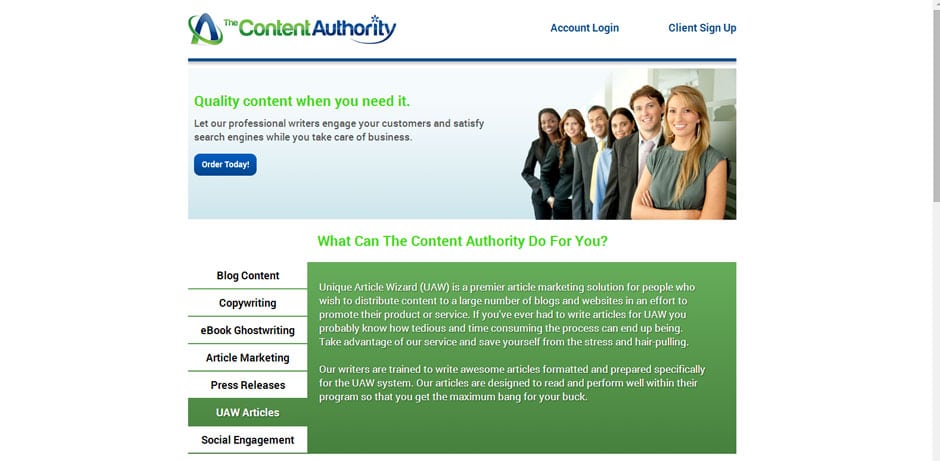 The Content Authority. I did not know there where so many different types of writing online until I visited their website. Their services include blog content, copywriting, eBook Ghostwriting, Article Marketing, Press Releases, UAW (Unique Article Wizard) Articles, and Social Engagement. They have a community of freelance writers they connect their clients to.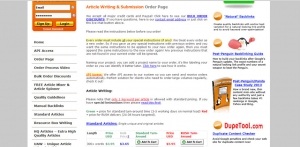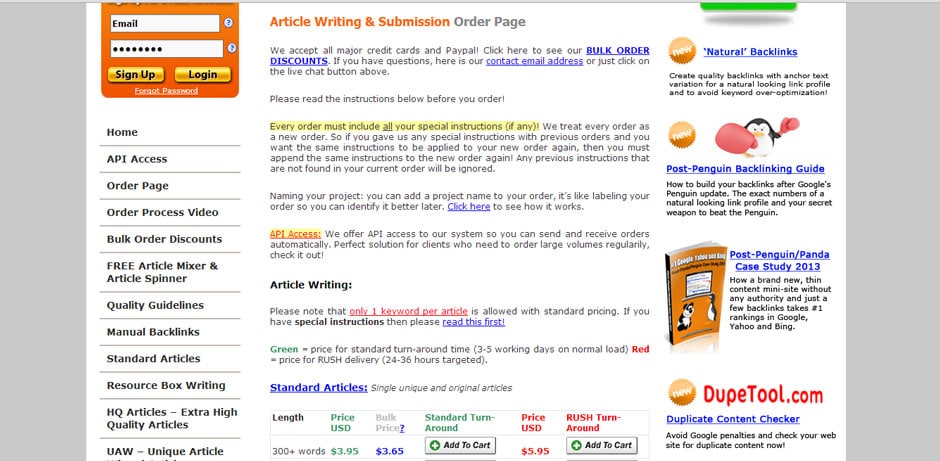 Get Articles Done. Provides lots of quality content fast for websites or blogs, and specialize in all different types of writing online. When first going to their website it can be a little overwhelming I thought, but off to the left, click order page and it has a list of their services they provide, with bulk pricing on most too.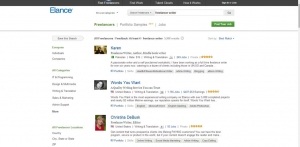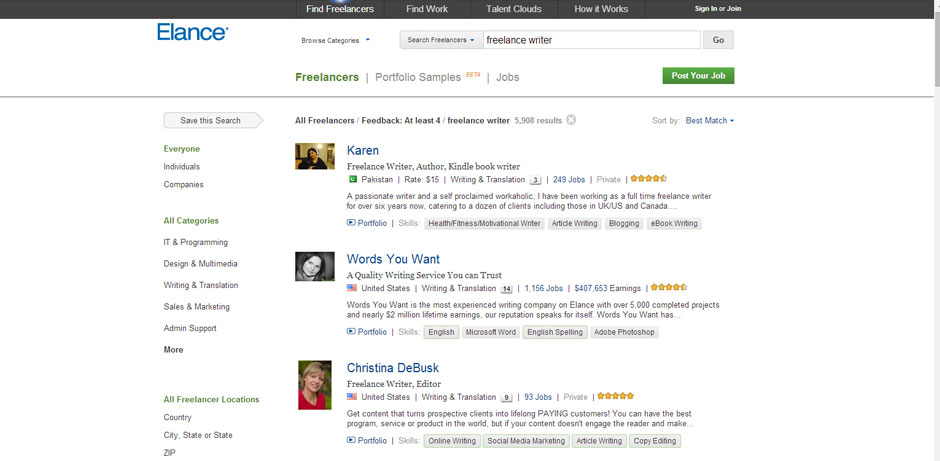 eLance. Simply search out all the freelance writers and the results will bring up many people to choose from. You can view their profile (may be individual or company) with job history, portfolio, overview, amount of jobs, reviews, and even earnings. You can also post your own job for a freelance writer on this site for free too if you prefer to layout all your requirements rather than sorting through all of them.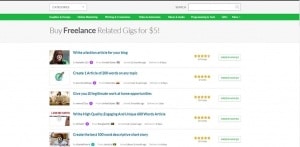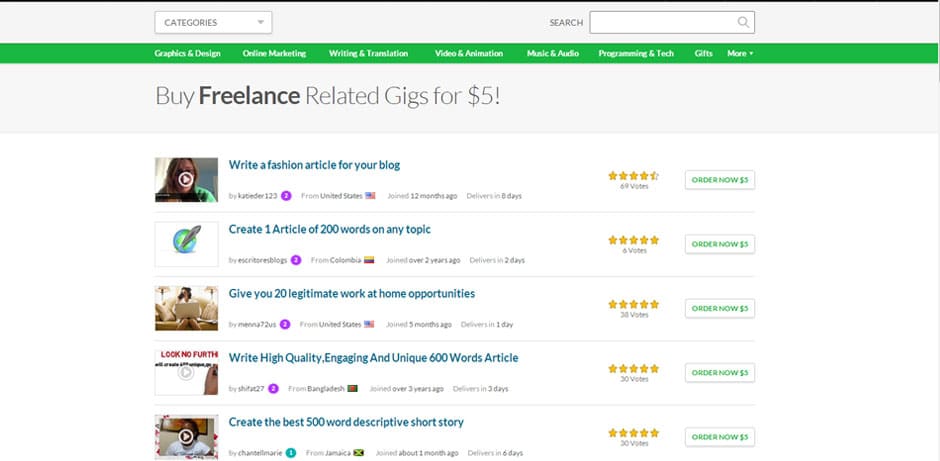 Fiverr. You can hire a freelance writer for as little as $5 per "gig" to write an online article (usually around 250-500 words). Some people have "Gig Extras" where you can pay a little extra to write more, or for them to add their own pictures. Each gig has a profile attached with ratings, comments, earned badges, amount of buyers, and more of the freelance writer.
Craigslist. It can take time to go through everyone who post in the services section, so I would recommend if you use this route, create an ad describing the quality content work you are looking for in a freelance writer and posting it. Then have them respond by emailing you with references, links to content writing work they have completed, or their portfolio.
Scripted. They take the searching for a freelance writer right off your hands. Simply define your content needs, they will match your content needs to their community of writers to find the right one to write what you need, and you will then receive your content. I've never used them so when it comes to the pricing I am not sure of because they make that part very personable. So if you've used them, please leave a comment about how their pricing compares.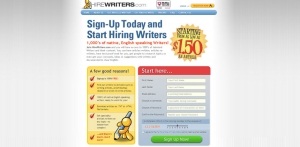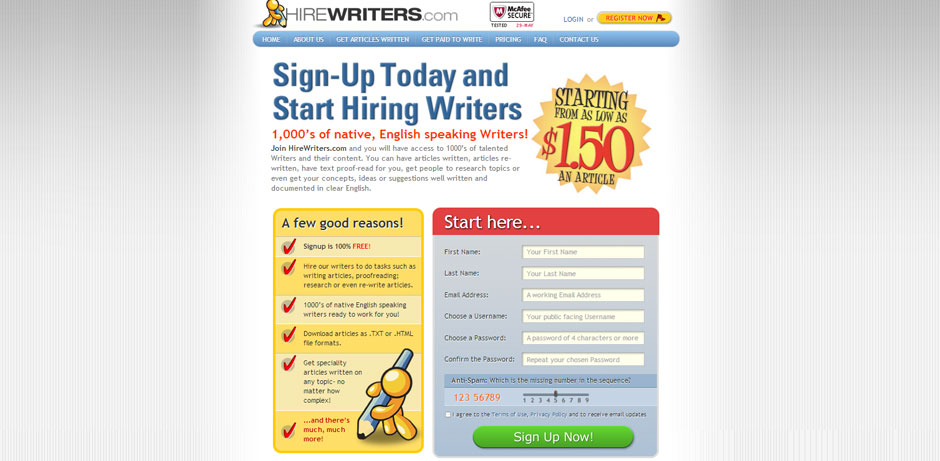 HireWriters. Sign-up is free, this site holds a database of thousands of writers online who will write articles, re-write articles, proof-read articles, research, and more. I have not used this website, but have read reviews; some are great and some not so great. If you have experience with them, please leave a comment and let me know how they worked out.
WriterAccess. I noticed compared to a lot of other sites out there, you will pay a little bit of a higher price for articles, but they advertise a 100% customer satisfaction guarantee. They offer all the way up to 6 star writers, I guess that's better than great.
College Students. Go to your local college or university. You can personalize your approach to finding a freelance writer by writing a letter or email to the specific English or journalism teacher and let them know you are wanting to hire their students as freelance writers and see what results you get out of that. By working with an English or journalism teacher, they can personally recommend students who would be great for the job. Or you can make a freelance writer job flyer to post on their school's job board, I can tell you from personal experience those job boards are a huge hit with college students!
Google "Freelance Writer". Or terms similar and right there on page one, a few freelance writers with an online portfolio pop up right there. Right off the bat that tells me Google has recognized their quality content within their website, and they've done their SEO right 😉
Questions, Guidelines, and Tips for How to Hire a Freelance Writer:
References and portfolio of work. If the freelance writer has done this type of work before, they should be able to come up with proof of work online.
Pay, one of the most important pieces for your freelance writer you hired. If it is not apparent right off the bat, negotiate a price before agreeing to anything whether it be per word, hourly rate, or amount of words (example 1000-1250).
Discuss and establish a deadline.
Figure out how they will get this content to you. Send over in a Word doc, or save as a draft on your website or blog platform, and once approved, you publish it?
Discuss your writing expectations when it comes to headings and subtitles, lists, linking, keyword density, use of any images, videos, or other media, etc.
When discussing your expectations, be prepared to figure out how far you will go to train if needed when it comes to your niche, SEO standards, linking, etc.
Be sure they understand the importance to not copyright (they should know this well if they are a professional freelance writer), to site their sources, and where they can use images or get images from if a part of the packaged deal.
The content should match the style of the website writing whether it's informal or formal format.
Ask yourself if you mind at all putting the finishing touches on the article, or how many mistakes you are willing to correct. This can determine your choice of a freelance writer when it comes down to getting it right the first time versus having to correct it a couple or several times.
And finally, remember, you get what you pay for. Sometimes the writer who charges more is well worth the money as opposed to the "cheaper" writer.