Facebook continues to be one of the top social networks out there so why not customize it especially to your blog or your business. With some new and old changes made to Facebook, there is now many ways to customize your Facebook page.
Facebook Profile Picture. No matter what size you make it, it will be sized down to 160 x 160 pixels, but you have to upload a photo at least 180 x 180 pixels. I recommend to upload a photo right around 700 x 700 pixels because some people like to click on that profile picture and see it a little bit larger. It's hard for some to see a little 160 x 160 pixel thumbnail.
Template shown below is directly off of Facebook's website: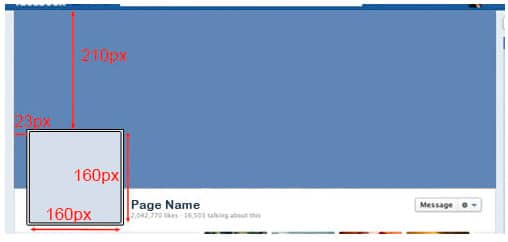 Facebook Cover Photo. In order to have your Facebook cover photo lay right within the area, you will need to size your photo to 851 x 315 pixels. Keep in mind your profile picture will lay right on top of your cover photo. The profile picture displays 23 pixels from the left and 210 pixels from the top. Be sure to read Facebook's Dos & Don'ts to make sure you putting in an appropriate cover photo.
A few websites you can easily get and create cover photos you can use for FREE to customize your Facebook page:
CoverCanvas.com
Cover Photo Magic.com
CoverJunction.com
MyFBCovers.com
The Facebook profile picture and cover photo are the basic ways to customize your Facebook page for either your blog or business. If you have a business page linked to your personal profile page, here are some additional ways to customize your Facebook page:
Customize your Facebook page with the top apps!
Each business page can have up to 12 applications installed, with the top 4 only showing until the up arrow is clicked. You can arrange the apps how you would like, except the Photos stay put. Create a custom image for each app you install, those need to be sized at 111 x 74 pixels.
Static iFrame Tab App. This app was created by Woobox, I use this to feed specific pages from a website in to a specific tab on a Facebook Business Page. Say I want to just show a blog from a website, I would set up the app with that specific URL pointing to the blog. You will need to download it from your personal page, then it will prompt you to select which business page you would like to use it for and start customizing from there. This app is also great to feed your social media such as Pinterest, Twitter, Instagram, and YouTube in to your Facebook page as well. This is a great app to customize your Facebook page because there is so much you can do with it.
MailChimp App. A great way to get people who visit your Facebook page to opt-in to a newsletter sign-up. By capturing those email addresses your are building fans for your business or blog. MailChimp lays out step by step instructions on their site on how to integrate their app so that you can customize your Facebook page here.
ShortStack App. This app is perfect if you want to run promotions, contests, videos, custom forms, and more. Running contest for your business or blog is a great way to keep your fans involved and participating in what you are all about, perfect to customize your Facebook page.


The great thing about using these apps is you don't have to do any coding to customize your Facebook page. They usually make it simple, and come with step-by-step instructions on how to make your own custom tab appear on your Facebook page. Plus they offer support through their forums, if you are having any  problems with the app, chances are someone else has had that same problem with it as well, and by checking out each app's forum, you will usually find the answers.
What apps do you favor to customize your Facebook page?
Remember to like my new "WebJess Tips" page on Facebook to tips and valuable resources straight to your feed: