There is so much more to the best survey sites than just filling out a normal questionnaire about a product or service and getting paid for it; the best survey sites online have combined so much more to give members more opportunity to earn cash or prizes in many different ways. If you are an active internet user, by now you have probably seen the ads, "Earn $25-$100 Per Survey" or "Earn $1,000 Each Month Doing Surveys", and if you clicked on any of these links, it usually takes you to a site to get you to join a list of specific survey sites. Although I can see the potential in earning a good amount of cash each month from participating in the best survey sites, it is difficult to make thousands each month from survey sites unless you shop online every day, qualify for every survey, or win sweepstakes all the time. Hey, it could happen right?
**This post contains affiliate links & I will be compensated if you make a purchase after clicking through my links.
What is a Survey Site?
The best survey sites out there offer many different ways for their members to earn cash or prizes such as taking surveys, shopping online from over thousands of retailers, signing-up for newsletters or membership on random sites, playing games, watching videos, opening emails, and more. It depends on what site you join, all will be different, some you will love and some you may not care for. Once you complete a survey, sites will reward you in cash or prizes.
Why you should join at least one survey site?
It is a great idea to at least join one of the best survey sites, if not multiple of the best survey sites out there. Why not get paid in cash, prizes or gift cards for doing what you already do. I have a few survey sites I am involved with, and earn money here and there for just opening emails, searching the web, making purchases online, and doing short surveys (I do not have time for the longs ones). I am all in for getting paid for doing something I am already doing online. The best advice is to join a few, see which of the best survey sites work best for you, and stick with it to earn a little extra cash each month with very little effort.
The Best Survey Sites
MyPoints is one of my favorite of the best survey sites, it's been around since 2004, and I joined in 2006. They changed it to where you can now earn cash through Paypal, it use to only be gift cards, which I always loved anyways because they have so many different ones to choose from. You can also donate cash for the points you earned, or even cash it in for free miles for flying. I have redeemed points I earned for $25 and $50 gift cards several times since being a member. MyPoints rewards you in points for filling out surveys, reading emails, online shopping, playing games, searching the web, booking trips, and printing coupons. Below is a screen shot of my account, as you can see I have over 12,000 points I can redeem, which I will soon for gift cards I can give out for Christmas! If you are requesting gift cards, I believe it takes up to 4-6 or 6-8 weeks to receive them, I usually got mine within 6 weeks, so keep that in mind. I am a big Groupon shopper, and go through MyPoints every time I buy a Groupon because they will reward points for that as long as you go through their site. Win win with very little effort! I recently wrote a personal MyPoints Review here if interested in getting more information.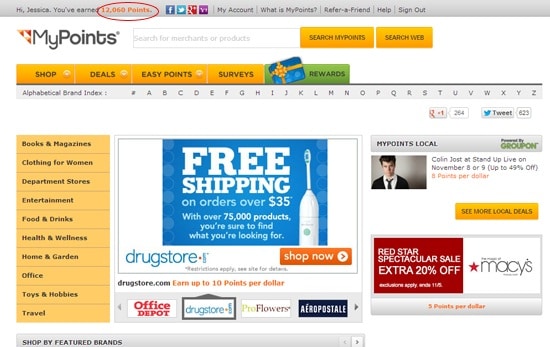 InboxDollars is another one of the best survey sites that I can confirm pays well. They have been around since 2000, I joined this site right around the same time I joined MyPoints in 2006. They credit your account $5 just for signing up. You can then earn cash for reading emails they send you, completing surveys and offers, for playing games, searching the web with their tool bar, online shopping, and more. One thing to keep in mind is to make sure you log in to your account at least once every 6 months or they will deactivate your account. I lost my Gold member status because I did not log in to my account for at least 6 months (time flies apparently) and I lost all my earnings and had to reactivate it. That's ok, I do still like them because they do pay well for me already doing what I would do online every day, they will send a check once your account reaches at least $30. I have received a few checks from them and all I did was open emails, complete very short surveys (I am not very patient when it comes to surveys), and complete free offers that rewarded cash.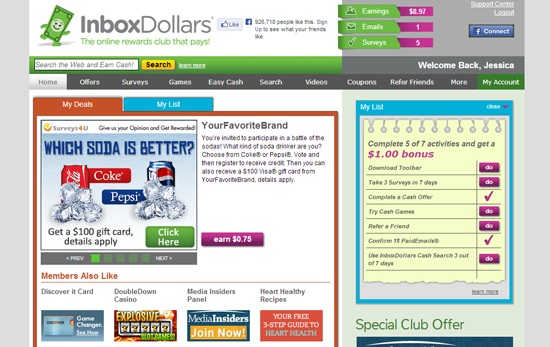 CashCrate has been around since 2006 and is not one that I have used, but I have read many many reviews that their cash rewards and prizes are good. They pay you $1 for just signing up. It is very similar to other survey sites that reward you for completing surveys, your profile, offers, online shopping, and much more. Their minimum payout is $18 and they send a check. Worth checking out as one of the best survey sites!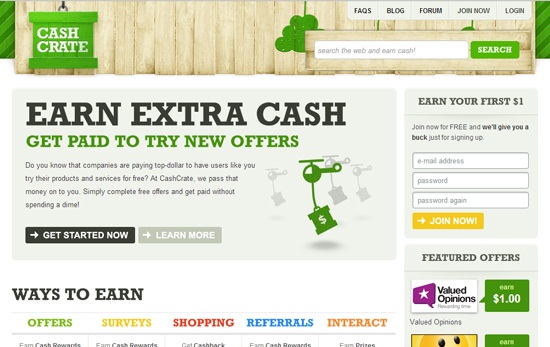 Harris Poll started earlier than all the best survey sites, in 1963 when Lou Harris first got into the market and poll research business. Earn "Hipoints" rewards for completing surveys, plus be entered in to their $10,000 sweepstakes. They work with 74 of the Fortune 100 companies, not bad at all for one of the best survey sites! I would say an easy one you can trust.
ZoomPanel allows you to earn points by telling companies what you think and by testing out new products before they even become available to others. For each completed survey they give you points which can then be redeemed for music, electronics, and more. You can earn up to 250 points per survey, and for just signing up, they give you your first 50 points. Merchandise you can choose from ranges from 1,000 points all the way up to 10,000. Another one of the best survey sites that have been around for awhile.
SendEarnings is very similar to some of the best survey sites, with a similar look to InboxDollars. They give you the opportunity to earn cash by reading emails, taking surveys, playing games, shopping online, redeeming coupons, and more. Free to join of course just like all the best survey sites are, plus they even give you a $5 bonus just for signing up.
TreasureTrooper now offers $1 minimum payouts. Earn cash by completing their offers (says there are over $3,000 offers on their website!), completing paid surveys, and by referring friends to join. Their offers can earn you anywhere from $0.50 up to $50.00. Once you receive the minimum payout amount of $20, you can request an Instant Payment, or wait to be paid automatically on the 15-20th of each month for your entire previous month's earnings. This is one of the best survey sites out there that even add a fun little twist to their site, instead of earning cash, you also have the option to earn "Platinum Coins" to be redeemed for gift cards and electronics, or earn "Dragon Scales" to be redeemed at Cogg's Coop (for all you gamers). For just signing up you will earn $1.
Gangster Greed is very similar to the best survey sites out there, with many of the similar offers when it comes to surveys. You can earn cash by joining clubs, filling out surveys, signing up for free trials, applying for credit cards, and more. Cash is deposited in to your Paypal account with an instant cashout system. They also have games and contest, plus just like all the others, you can earn cash by referring others.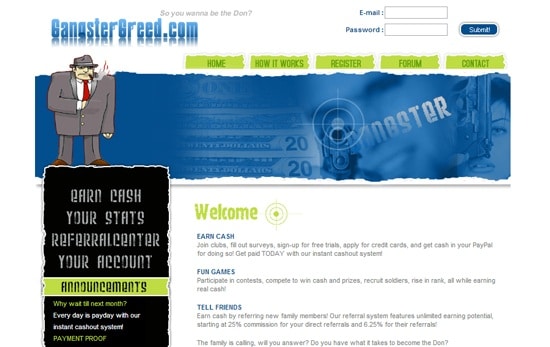 Survey Savvy has been around since 1999 and connects companies with people who are willing to share their opinions. They use your information to match you up with specific surveys and will invite you to join them. In return, for completing each survey you will be rewarded cash, and once meeting the minimum threshold of $1, you can request a payment. You can also receive incentives for direct referrals who complete surveys and when they refer others to join under them. As with many other survey sites, there are opportunities to be entered in to their sweepstakes and contests. The amount of surveys each person will get invited to varies.
Opinion Place gives you surveys that apply to you based off of the questions you answer on your profile when first signing up. They offer rewards when you complete one of their "OpinionPlace" surveys such as Amazon gift cards, Paypal credits, American Airlines Aadvantage Miles, or entries in to their bi-monthly sweepstakes.
Other Top Survey Sites Worth Checking Out:
American Consumer Opinion Panel