I am a diehard WordPress user, but with all the hype around Shopify, and me being a web designer, I figure I must tap in to this Shopify business. The competition around Shopify Stores, and who has the best one all around has many users ready to step up with the best premium Shopify themes. I now see this question being asked more often than "free" Shopify themes. Serious e-commerce professionals are asking what are the best Shopify themes?
People are turning to Shopify at increasing rates to run their e-commerce stores. Most all the people who use Shopify prefer it over many other popular platforms for how much simpler it is to build their e-commerce store with no previous web design experience. It really is built for online retail stores so it has many powerful features that will help users launch their online stores.
*This post contains affiliate links & I will be compensated if you make a purchase after clicking through my links.
I belong to a few Shopify realated Facebook groups and after seeing many members of those groups ask, "what are the best premium Shopify themes out there", it encouraged me to start researching. Sure I can deliver options for the best themes for WordPress, but Shopify is new to me. To keep up with web design trends and the rise of Shopify users, I decided it was time to get involved.
Themeforest is my go to for ALL of my premium themes, plugins, etc. I believe they truly have the best, their support is amazing, and the marketplace is full is highly experienced developers and designers. Therefore, all of the best premium Shopify themes I have outlined below, come from Themeforest. Check them out: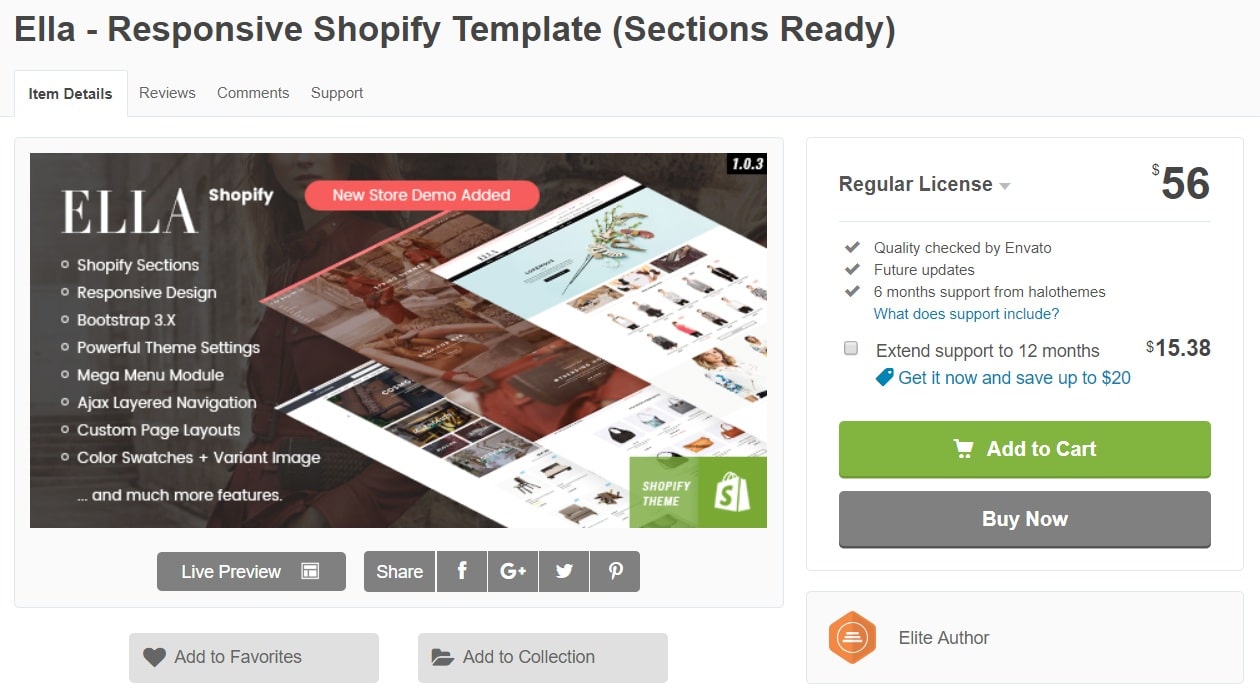 Ella – Responsive Premium Shopify Theme by halothemes
The Ella theme is a verified Shopify theme that comes with Shopify sections. It is equipped with Shopify advanced mega menu options and Ajax layered navigation. Plus it comes with layered PSD, CSS, and JS files with lots of documentation. To top it all off the Ella theme comes with beautiful custom page layouts to blow your e-commerce store out of the water.
$56
7.4k sales
4.7 out of 5 star rating average based on 296 ratings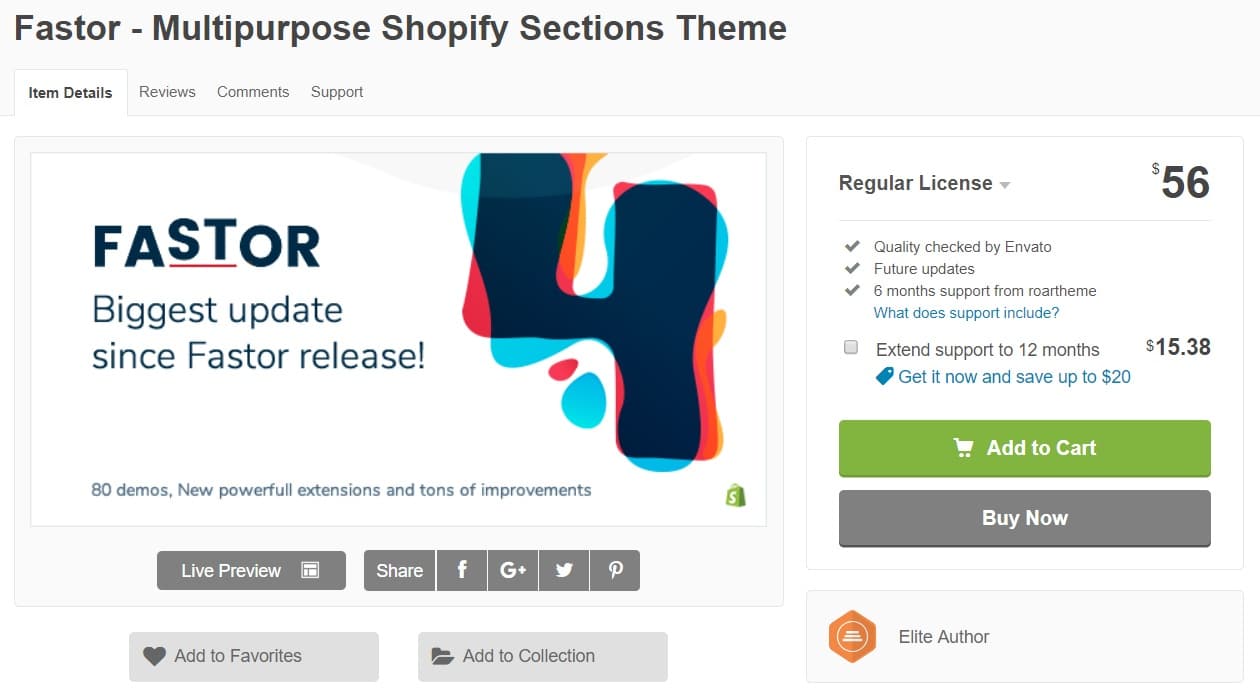 Fastor – Multipurpose Premium Shopify Sections Theme by raortheme
The Fastor theme comes with 80+ pre-made demos that do all the hard work for you. It has fast loading time so your e-commerce store can be up in running beautifully in no time. The themes features a cool automation platform with a Cart Reminder, Countdown Cart Timer, EU Cookie Law Bar, Mobile Web Booster, Simple Google Translate, Age Verification, and so much more. Talk about up to date on everything to make your life easier.
$56
2.9k sales
4.88 out of 5 star rating average based on 258 ratings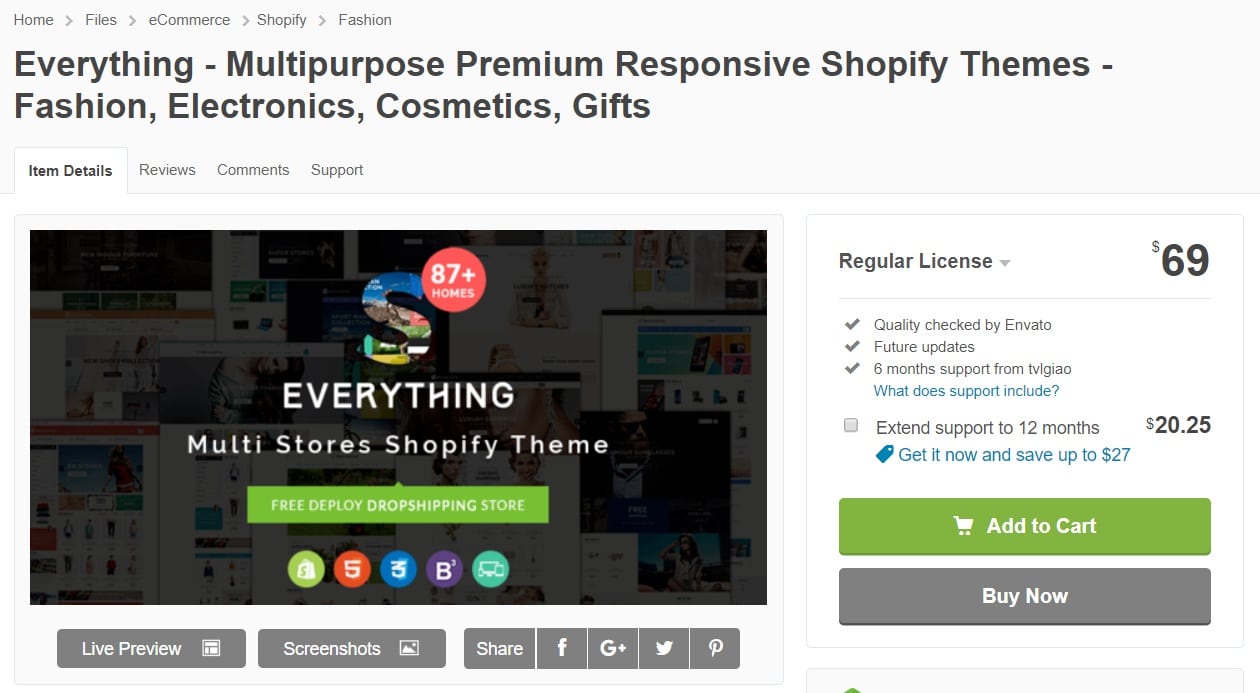 Everything – Mulipurpose Responsive Premium Shopify Theme by tvlgiao
The Everything theme made by Shopify experts. Right now this theme offers a free full store set-up you can request from the creator. Features 77+ beautiful designs, 48 sectioned themes, and 29 standard themes. Whatever niche your e-commerce store is in, they've got you covered.
$69
2.1k sales
4.75 out of 5 star rating average based on 88 ratings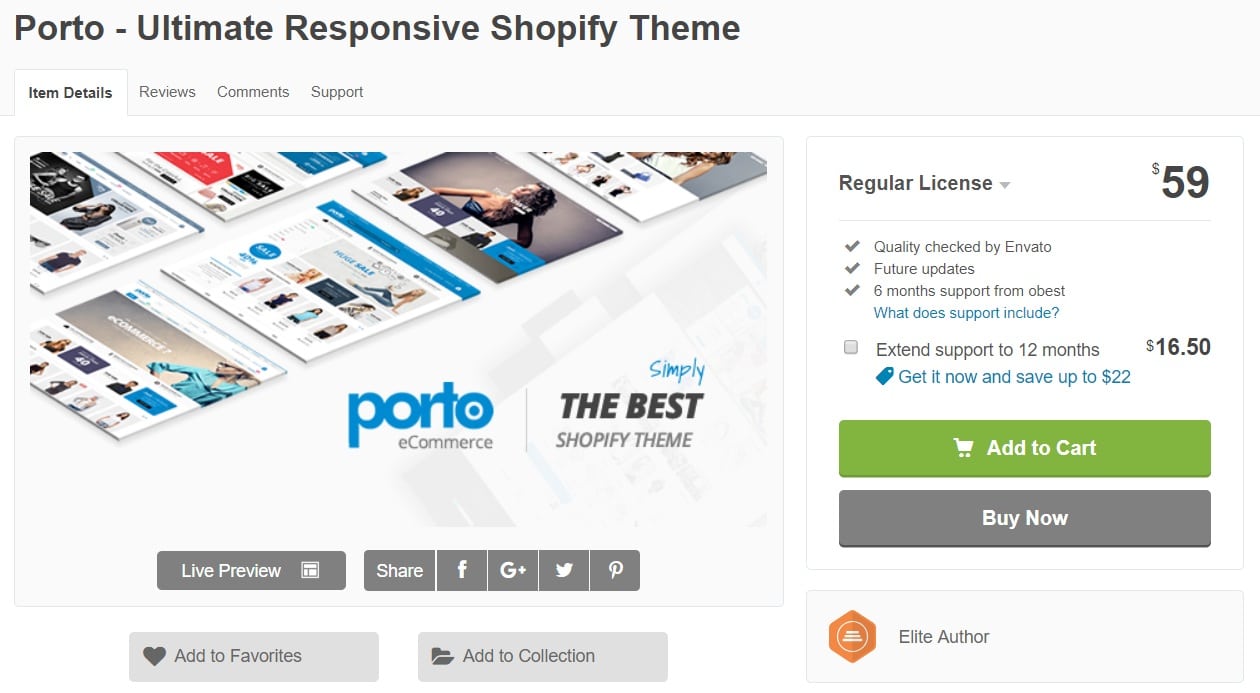 Porto – Ultimate Responsive Premium Shopify Theme by obest
Features lots of options for headers, layouts, sidebars, sliders, and category pages. This is a super fast premium Shopify theme that will get your products up in running in no time. With their extensive documentation and top level support, you will feel like a pro setting up your e-commerce site with this theme.
$59
1.7k sales
4.84 out of 5 star rating average based on 134 ratings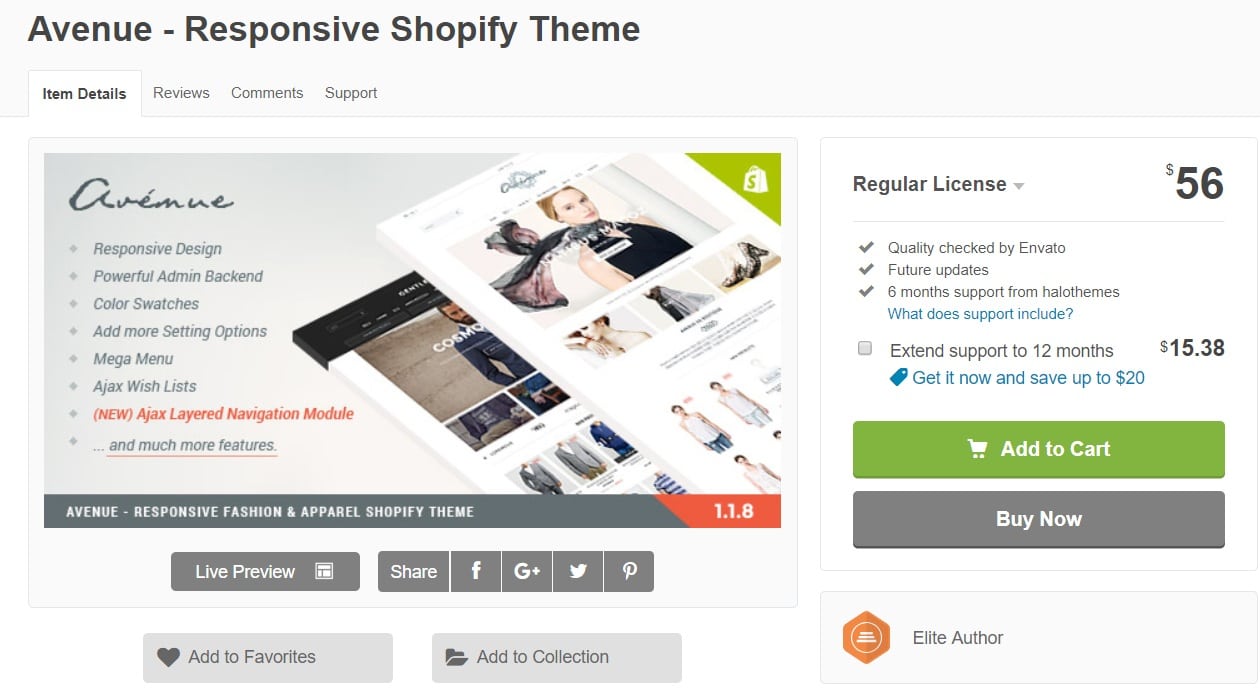 Avenue – Responsive Premium Shopify Theme by halothemes
The Avenue theme focuses on giving you a gorgeous, professional looking fashion site. Lots of powerful features including Flexslider, drop-down shopping cart, Ajax add to cart, Mailchimp newsletter sign-up popup, vibrant color options, and all around a pretty simple premium Shopify theme to use. So many options when it comes to the fashion and apparel niche.
$56
1.5k sales
4.74 out of 5 star rating average based on 85 ratings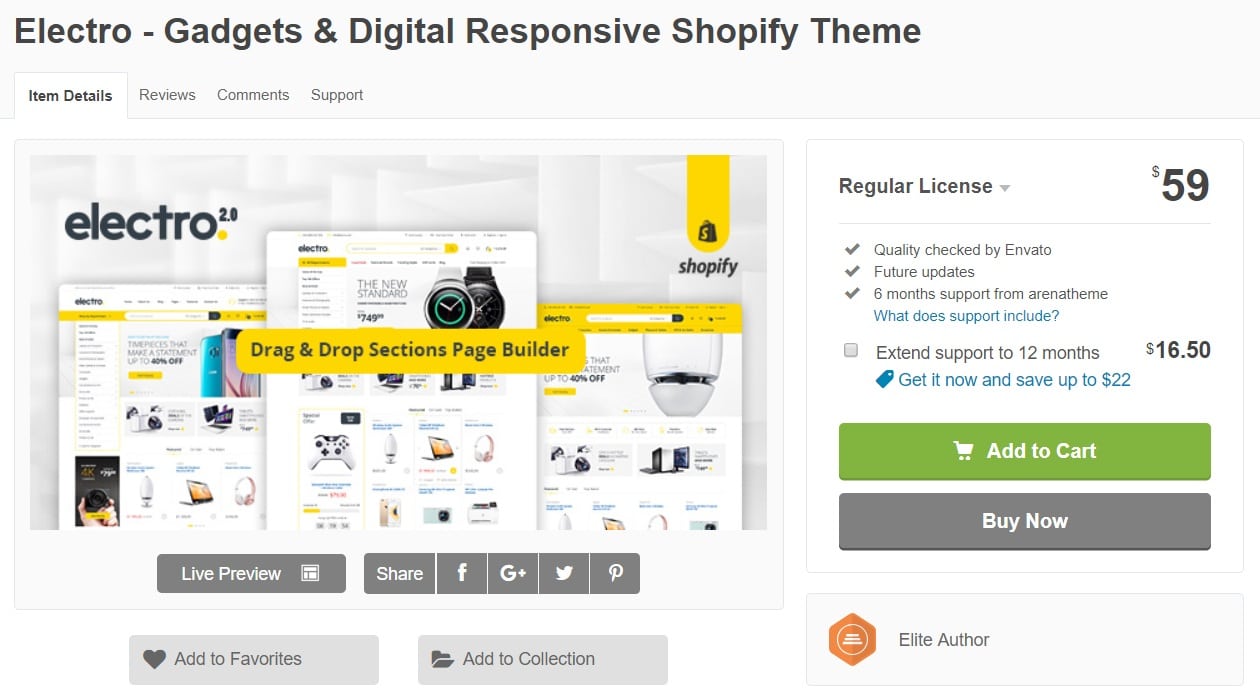 Electro – Gadget and Digital Responsive Premium Shopify Theme by arenatheme
The Electro theme comes with an easy install and import sample data feature from the demo. Equipped with 4 style options for products to give them that unique look. There are 8 color package presets in the demo all ready to go. Great up-sell shopping cart option to get one last sale in. We all know that feature is critical with all the competition e-commerce stores face today.
$59
1.3k sales
4.95 out of 5 star rating average based on 86 ratings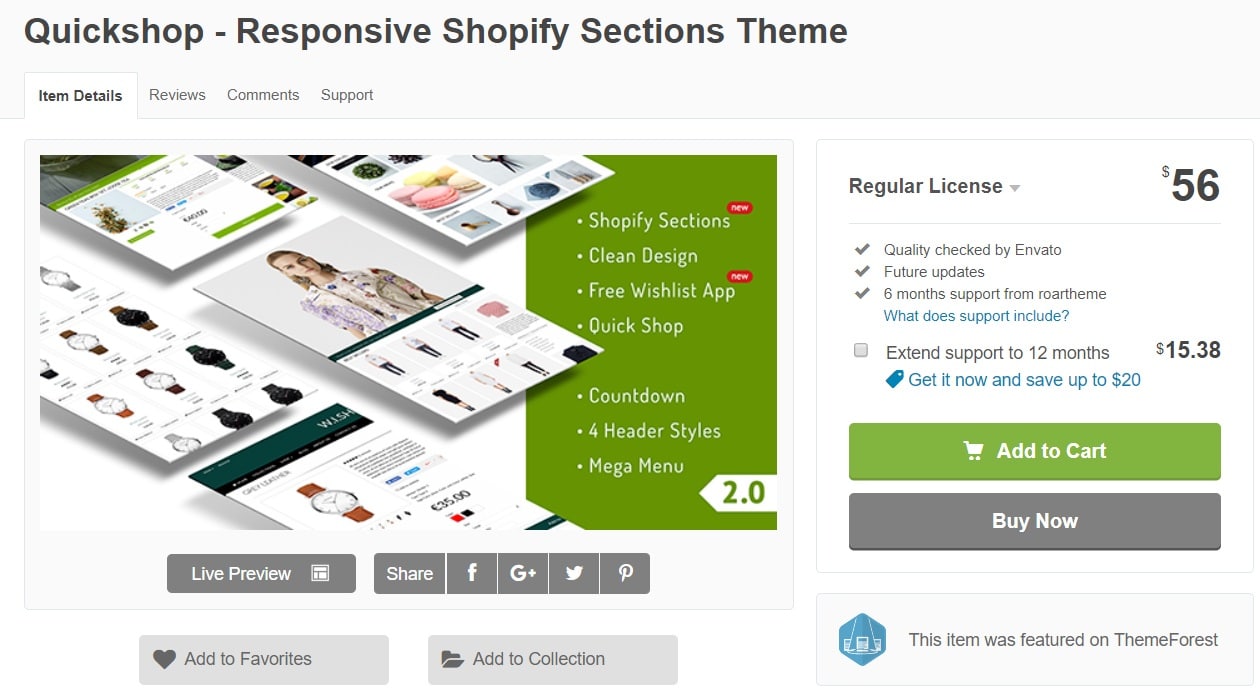 Quickshop – Responsive Premium Shopify Sections Theme by roartheme
The Quickshop theme is a clean design with easy drag and drop, plus includes full support. It comes with 3 beautiful presets: green, red, and violet. Features Google's rich product snippets for better SEO for your products. To top it all off, this premium Shopify theme has translation and multi-currencies to better serve international customers.
$56
1.2k sales
4.93 out of 5 star ratings based on 103 ratings
Keep in mind with any Premium Shopify themes, they are always going to be quite the step up from the free themes. Meaning more options, more powerful, and sometimes more intimidating. Don't let that scare you. Read the documentation, and reach out to the theme's support team with any questions or issues that may come up. I suggest getting yourself familiar with Shopify and working with one of the free themes before taking a step up to working with the best premium Shopify themes.
There you have it, the best premium Shopify themes in my opinion. Have a Shopify Store with a premium theme installed? I'd love to see it! Please be sure to post a link pointing to your store in the comments section below. If you are interested in additional themes for WordPress, check out my post on 10 Parallax WordPress Themes.